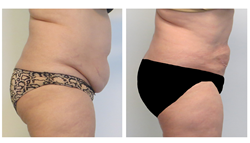 The more fat we can remove, the bigger the change the patient will experience.
(PRWEB) December 15, 2016
Who's the ideal candidate for liposuction? It really depends on where you are getting your information from and what your expectations are for your results. Trevor Schmidt PA-C, the owner and liposuction expert at MyShape Lipo has a very liberal view on this subject, which he discusses in his live interview on the FOX 5 More Show.
The American Society of Plastic Surgeons (ASPS) claims the best lipo candidates are "Adults within 30% of their ideal weight who have firm, elastic skin and good muscle tone." By this definition, you should be near your ideal weight in order to get your fat removed through liposuction. Unfortunately, this eliminates nearly all the people that actually want liposuction to remove their unwanted fat.
Schmidt believes that anyone who has excess fat that they want removed and has realistic expectations is a good candidate for liposuction. "I remove fat for a living, who am I to tell someone that they have too much fat for me to remove," says Schmidt. "If they understand and have realistic expectations, then I think they are a good candidate for lipo."
According the the Center for Disease Control and Prevention, "2 out of 3 adults are considered overweight and 1 in 3 adults is considered obese." So by the definition of the ideal candidate by ASPS, nearly 2/3 of the adult population who struggle with fat are eliminated as candidates.
"It's absurd to tell someone who struggles with their accumulation of fat, that they are not a good candidate to get their fat removed," says Schmidt. "We have had amazing, life changing results with treating larger individuals. The more fat we can remove, the bigger the change the patient will experience."
Tina Gray was not an ideal candidate in that she was overweight and she is approaching her 60's. Despite this, she was able to achieve very good results from liposuction. In a single procedure she was able to reduce her waist by 4 inches and eliminate the part of her belly that folds over. She also reduced her inner thighs by 2 inches each and eliminated the rubbing she experienced.
"I'm ecstatic, my belly is nearly flat and I am able to fit into clothes that were previously too small," says Tina. "I feel so much more confident, I wish I would have done this sooner."
At MyShape Lipo, most of their patients are not the "ideal candidate" set forth by ASPA. Instead they remove large volumes of fat to offer dramatic results for those that have bigger problems and have struggled with diet and exercise. Their patients are expecting to get significantly smaller.
Most of the larger patients are expecting only to look better in their clothes as opposed to getting into a bathing suit or showing off their belly. Many already have irregularities or loose skin and are not expecting these issues to completely go away. These people are looking for improvement, not perfection and they are happy with a significant reduction is size.
In the case of Tina, she had a substantial reduction in her belly. In fact the fold of loose skin and fat in the front of her belly has retracted and disappeared completely. She's been able to fit into her clothes better and experienced improvements in her functionality. Hygiene is easier now that her belly doesn't fold over.
"I've actually found that our larger patients tend to be much happier with their results," says Schmidt. "Their improvement goes far beyond cosmetic results including functionality, mobility and confidence."
About MyShape Lipo
MyShape Lipo is a Liposuction and Fat Transfer specialty clinic located in Las Vegas, NV. Trevor Schmidt PA-C, the owner and liposuction specialist has performed over 15,000 liposuction procedures on all shapes, sizes and ages of individuals. He has the experience to get the most dramatic, smoothest and most consistent results for his patients. They offer free Body Shape Analysis, Call Now 702-818-5476. View their photo gallery online at http://www.MyShapeLipo.com.