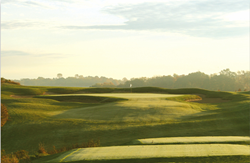 "Cognistx brought us a new level of innovation that's redefining the category through proprietary Artificial Intelligence algorithms which brings a whole new set of tools to the golf operator" Tom Robshaw
Raleigh, NC (PRWEB) December 14, 2016
Winston Salem, NC | Pittsburgh, PA | Club Prophet Systems, the world leader in golf management software, is partnering with cognitive-computing startup company Cognistx to create a game-changing app designed to deliver intelligent, individualized content and offers to golfers. Users will be able to schedule tee times, choose players from their buddy list, track and compare scores, map the course and receive personalized offers based on their playing preferences and past purchases.
"We're excited to launch this new offering to our customers and know it will help them generate incremental revenue while delivering a great app experience to our customer's golfers," said Tom Robshaw, owner and President of Club Prophet Systems. "We chose Cognistx because of their deep technology and user experience track record. They brought us a new level of innovation that's redefining the category through proprietary Artificial Intelligence algorithms which brings a whole new set of tools to the golf operator."
The first course that will benefit from the app is Birdsfoot, located in Freeport, PA. Course owner Travis Lindsay will launch the app in time for the Spring golf season. "Our golfers will have an entirely new way to interact with us," Stephenson said. "We'll be delivering smarter marketing content and offers to individual golfers, not just generic messaging. We're expecting big things."
The app will be introduced at the PGA Show in Orlando January 24-27, 2017 at the Club Prophet Systems booth. Course owners and managers will be able to view a demo, discuss course customization options and learn about the affordable pricing plans available. "I'm an avid golfer," said Cognistx CEO Sanjay Chopra. "We saw an opportunity to bring a smarter app and a personalized experience to the golfer while at the same time elevating the course operator's reach through our use of cognitive computing, so we reached out to Club Prophet Systems to bring it life. I am excited to work on this project as I can apply Cognitive Computing to my favorite sport, golf!"
About Cognistx
Cognistx is a cognitive computing company leveraging the latest data science tools and approaches to solve today's most complex business challenges. The privately-held company has offices in Pittsburgh, PA; Raleigh, NC; and Winston-Salem, NC. Their first cognitive-powered app for Monro Muffler & Brake, MotoManager by Mr. Tire, was recently released and is now available on the App Store and Google Play.
About Club Prophet Systems
For the past 25 years, Club Prophet Systems has designed and provided fully integrated Golf Management Software systems for the golf industry including Point of Sale (POS), Food and Beverage (F&B) for Snack Bar to Fine Dining, Customer History and Member Management with Billing and Online Statements, Tee Time and Online Reservations, Email Marketing, Mobile Solutions, Integrated Credit Card Processing, Reporting, Inventory, and much more. Club Prophet Systems serves more than 1600 facilities in 16 countries in 9 languages. CPS provides local server and cloud solutions for every type of golf facility including driving range, public, private, resort and municipal including multi-course and management companies.