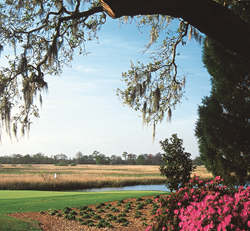 For golfers, there's nothing better than the gift of golf. Myrtle Beach has some fantastic courses to choose from. And, booking through Myrtle Beach Golf Trips makes it easy.
Myrtle Beach, South Carolina (PRWEB) December 14, 2016
Follow Rudolph's nose to the best prices for spring golf to Myrtle Beach Golf Trips. Discover three ways to swing into the spring season for the golf lover on any list, by booking one, two, or four rounds at some of the most majestic, award-winning courses on the Grand Strand. This gift will keep on giving when a golfer heads to the Myrtle Beach area and experiences America's Seaside Golf Capital.
"The anticipation of opening that gift will continue until the trip down here in February, when the weather is typically comfortable and the golf season is getting underway," said Steve Mays, director of marketing and sales for Founders Group International, owner of Myrtle Beach Golf Trips. "The hustle and bustle of the holiday season may be over, but the excitement of spring is in the air here in Myrtle Beach."
Single-round prices start at $37 on 22 Founders Collection Courses for those who beat the March crowds and play between February 9 and March 1. Founders Collection Courses include Myrtlewood Golf Club, including Myrtlewood Palmetto course, one of the top repeat-play courses along the Grand Strand; Pine Lakes Country Club, "The Granddaddy" of Myrtle Beach golf and home to Sports Illustrated magazine; and Founders Club at Pawleys Island, a Lowcountry favorite that has received numerous accolades from Golf Digest, Golf Magazine and other national media.
Golfers can also choose to play two rounds on the award-winning Waccamaw Golf Trail at tee times starting at $42 per golfer per day. Most of the 11 courses were built on 18th and 19th century rice and indigo plantations with ancient moss-draped oaks and gently flowing tidal rivers, including Caledonia Golf & Fish Club and The Heritage Club. Many consider Caledonia the best course on the Grand Strand, with accolades that include "Top 100 Courses You Can Play in America" by Golf Magazine and "100 Greatest Public Courses in America" by Golf Digest. Its true southern charm is part of the draw with majestic oaks and meandering streams. Breathtaking views continue at the Heritage Club on more than 600 acres of giant magnolias overlooking the Waccamaw River. The historical settings of the Waccamaw Trail are gifts in themselves.
The Prime Times Reward package is a third option for golf lovers and gift givers alike. Each golfer receives $115 in rewards for spring golf when four or more rounds are booked on courses that include four of Myrtle Beach's best: Grand Dunes Resort Club, TPC Myrtle Beach, King's North at Myrtle Beach National, and World Tour Golf Links. Starting at $323 for four rounds, golfers can spend the day in the warm Carolina sun playing top-ranked layouts like TPC Myrtle Beach, once the site of the senior PGA championship. Golfers can enjoy spectacular views of the Intracoastal Waterway while taking on the challenge of ocean breezes at Grand Dunes Resort Club. At the Arnold Palmer-designed King's North, golfers can tee it up on one of America's 100 Greatest Public Courses and take on an unforgettable par 5 known as "The Gambler." The opportunity to play some of the most renowned holes in all of golf awaits players who book times at World Tour Golf Links where there are tributes to Augusta National's "Amen Corner" and the Sawgrass #17 island green masterfully woven with 16 other tribute holes to create a spectacular course.
More information about the best rates for spring golf is available at http://www.myrtlebeachgolftrips.com/golf-packages/golf-only.
About Myrtle Beach Golf Trips
The area's premier resource for tee time bookings, Myrtle Beach Golf Trips has been putting together great golf experiences for customers since 1927, by providing access to award-winning courses, multi-round tee time specials, and golf and lodging packages at the best prices.
Owned by Founders Group International (FGI) and with the help of Golf Insider's 100 percent player-generated course ranking system, Myrtle Beach Golf Trips helps thousands of golfers plan and assemble their ideal golf itineraries. Golfers can choose from "top-100 caliber" courses Pawleys Plantation Golf & Country Club, Grande Dunes Resort Club, TPC of Myrtle Beach, King's North at Myrtle Beach National Golf Club, Pine Lakes Country Club and more than 80 other Myrtle Beach area courses.
More information about Myrtle Beach Golf Trips and Founders Group International, is available at http://www.foundersgroupinternational.com, http://www.mbn.com or MyrtleBeachGolfTrips.com.
###