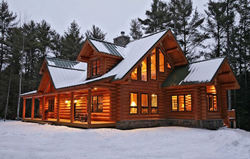 Austin, TX (PRWEB) December 14, 2016
HomeAway®, the world leader in vacation rentals, released ten winners of its "2016 Best Space Showcase," in which travelers chose their favorite overall vacation home, favorite kitchen, favorite backyard, favorite bedroom, and more.
HomeAway's homeowner/property manager supplier partners and travelers from around the world nominated more than 850 vacation rental properties with the best spaces, and more than 8,300 people voted via the company's Facebook channel.
Best Cabin – A Luxurious New England Charmer
Voters chose this log cabin in Harrison, Maine as the best cabin on HomeAway.com. The all-season home has a game room and a multimedia room, and it sleeps 11 guests. The price per night starts at $456. See more photos and traveler reviews here.
Best Waterfront Home – A Bora Bora Beauty
This bungalow in Bora Bora boasts modern finishes, and on-site activities including boating, fishing, and snorkeling. Starting at $395 per night, this stunning waterfront property in French Polynesia is available for two with a five-night minimum stay. See more photos and traveler reviews here.
Most Unique Retreat – A Gorgeous Greek Villa
Voters chose Villa Drakothea as the most unique listing on HomeAway. Carved into a hill with panoramic views of the Aegean Sea, the white and stone villa seems like one with the nature that surrounds it. This Mykonos home starts at $681 per night and sleeps nine guests. See more photos and traveler reviews here.
Best Urban Space – A Chicago Penthouse
Sitting in between North Michigan Avenue and River North District, this urban penthouse vacation rental is in the heart of Chicago. This listing rents for $674 per night and sleeps eight guests. See more photos and traveler reviews here.
Best Bedroom – A Yucatecan Dream
This bedroom in a $3,975-per-night luxury villa in Tulum, Mexico, is a fan favorite. The modern touches, the clean lines, and the en-suite balcony could be why travelers chose this room as the "dreamiest bedroom." See more photos and traveler reviews here.
Best Kitchen – An Indoor-Outdoor Island Jewel
Like in many vacation homes, the kitchen is the heart of this rental. It boasts gourmet equipment, an authentic farm table. It has an inviting aesthetic as a large window and open doorway make it an indoor-outdoor space. This home in Isla Mujeres, Mexico, sleeps eight and starts at $550 per night. See more photos and traveler reviews here.
Best Living Room – Right on the Slopes
This living room is part of a ski-in/ski-out home on Whistler Mountain in Canada. The oversized picture window in this living room has expansive views of the Dave Murray Downhill ski run. Starting at $1,299, this homes sleeps 15 guests. See more photos and traveler reviews here.
Best Swimming Pool – A Oaxacan Wonder
The winner in the best pool category is a 40-meter saltwater pool in the center of a luxury beach compound in Oaxaca, Mexico. The pool is surrounded by outdoor living areas and has a panoramic view of the Pacific Ocean. This rental is priced at $2,030 per night. See more photos and traveler reviews here.
Best Backyard – In Magical Merida
The Mason Azul rental won for best backyard. Located in the historic district of Merida, Mexico, this French colonial mansion has a beautiful courtyard in the middle of the rental with an expansive garden and a large venetian-style pool. Starting at $375 per night, this home sleeps eight guests. See more photos and traveler reviews here.
Best Fireplace – A Tennessee Treasure
The fireplace in this Franklin, Tennessee, cottage is the focal point of this cozy home. The handcrafted fireplace screen is a piece of art that complements the natural stone chimney. This rental starts at $356 per night and sleeps six guests. See more photos and traveler reviews here.
The winning properties will be badged on HomeAway.com as a winner of the 2016 Best Space Showcase. Travelers can inquire to rent these properties through their listings on HomeAway.com.
The 2017 Best Space Showcase will kick-off in January. Owners, property manager suppliers and travelers will be able to submit properties for a chance to be featured in the 2017 showcase.
###
About HomeAway
HomeAway, based in Austin, Texas, is the world leader in vacation rentals with sites representing more than one million online bookable vacation rental homes in 190 countries, and is a part of the Expedia, Inc. family of brands. Through HomeAway, owners and property managers offer an extensive selection of vacation homes that provide travelers with memorable experiences and benefits, including more room to relax and added privacy, for less than the cost of traditional hotel accommodations. The company also makes it easy for vacation rental owners and property managers to advertise their properties and manage bookings online. The HomeAway portfolio includes the leading vacation rental websites HomeAway.com, VRBO.com, and VacationRentals.com in the United States; HomeAway.co.uk and OwnersDirect.co.uk in the United Kingdom; HomeAway.de in Germany; Abritel.fr and Homelidays.com in France; HomeAway.es and Toprural.es in Spain; AlugueTemporada.com.br in Brazil; HomeAway.com.au and Stayz.com.au in Australia; Bookabach.co.nz in New Zealand; and Asia Pacific short-term rental site, travelmob.com. The company also operates BedandBreakfast.com, the most comprehensive global site for finding bed-and-breakfast properties, providing travelers with another source for unique lodging alternatives to chain hotels. For more information about HomeAway, please visit http://www.homeaway.com.
© 2016 HomeAway.  All rights reserved.  HomeAway and the HomeAway logo are trademarks of HomeAway.  All other trademarks are property of their respective owners.