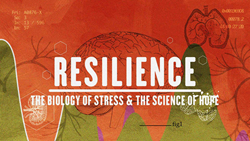 Sonoma, CA (PRWEB) December 14, 2016
Hanna Boys Center, in partnership with the Sonoma Valley Mentoring Alliance, announced today it will be offering a free screening of the documentary film: RESILIENCE: THE BIOLOGY OF STRESS AND THE SCIENCE OF HOPE, on January 18th, 2017 at 6:30 p.m. This event will include the film, a panel discussion and question and answer time from the audience. It is designed for organizational leaders, educators, mentors, health care providers, caregivers and parents to better understand the impact of stress caused by Adverse Childhood Experiences (ACEs).
RESILIENCE: THE BIOLOGY OF STRESS AND THE SCIENCE OF HOPE, the latest from documentary director-producer James Redford and producer-writer-editor Karen Pritzker, builds on the theory and science behind the issues covered in their previous feature motion picture, PAPER TIGERS.
Attendees will learn more about the science behind how childhood trauma can impact a person throughout their lifetime and lead to a host of illnesses and self-destructive behaviors later in life, from eating disorders and heart disease, to incarceration and suicide. The film will be followed by a panel discussion and brainstorming session about how to build more resilient individuals, families and communities.
"Here at Hanna Boys Center, many of our children have been impacted by adversity, and what we know now is the toxic stress it generates," says Brian Farragher, executive director of Hanna Boys Center. "This toxic stress changes the actual development path of the child, leading to all sorts of undesired outcomes. But we can change that with the right intervention and by gaining an understanding of the impact of childhood trauma on neural and physical development."
"At the Mentoring Alliance, we believe that more understanding and training in Adverse Childhood Experiences (ACEs), can only deepen our ability to serve our mentees in the most wholesome way possible," comments Lee Morgan Brown, Executive Director.
To register for this free event, which takes place on January 18, 2017 at 6:30 p.m., go to: https://www.hannacenter.org/forms/resilience-screening.aspx. Or, you can email Leslie Petersen directly at lpetersen(at)hannacenter(dot)org or contact her at 707-933-2555. This is a free event but seating is limited and registration is required. The final day for registration is January 11, 2018. Event takes place at Hanna Boys Center Auditorium, 17000 Arnold Drive, Sonoma, CA 95476.
More about the film:
RESILIENCE: THE BIOLOGY OF STRESS AND THE SCIENCE OF HOPE uses high-tech animation and personal stories to clarify the science of and solutions for Adverse Childhood Experiences. Researchers have recently discovered a dangerous biological syndrome caused by abuse and neglect during childhood. As the new documentary reveals, toxic stress can trigger hormones that wreak havoc on the brains and bodies of children, putting them at a greater risk for disease, homelessness, prison time, and early death. Quote from the film's website: "The child may not remember, but the body remembers."
Directed by JAMES REDFORD , Produced by KAREN PRITZKER | JAMES REDFORD
You can learn more about the film here: http://www.resiliencesd.com.
# # #
About Hanna Boys Center
Since 1945, Hanna Boys Center has changed the lives of thousands of troubled, motivated youth through faith, education and caring, helping them grow into productive members of society. Hanna exists to help at-risk teens overcome the effects of childhood adversity—to become responsible, productive adults and realize their highest potential. We do this by providing a nurturing and therapeutic residential environment, a tailored educational model, and trained, caring adults who help kids create positive, permanent change in their lives. http://www.hannacenter.org
About Sonoma Valley Mentoring Alliance
Now celebrating it's 20th year of mentoring in the Valley, the Sonoma Valley Mentoring Alliance pairs caring adults with children in need of social and emotional support so they may floursih in school and in life. Our Stand By Me mentoring program currently provides mentors for 450 students throughout the Sonoma Valley Unified School District. We maintain professionally-staffed Mentor Centers at all eight K-12 public schools campuses in the Sonoma Valley Unified School District. We also oversee mentoring matches at local charter schools and at Hanna Boys Center. http://www.sonomamentoring.org
For more information about this event, please contact:
Leslie Petersen,Hanna Boys Center, Director of Events, 707-933-2555, lpetersen(at)hannacenter(dot)org