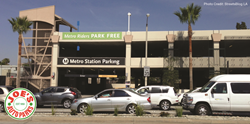 There's going to be a huge parking shortage in downtown Los Angeles, which means more people are going to start using public transit. Metro recognizes that and is planning appropriately.- Kevin Litwin, COO of Joe's Auto Parks
Los Angeles, Calif. (PRWEB) December 15, 2016
Metro's paid parking program is designed to improve customer satisfaction. Each parking lot will feature fully automated, ticket-free pay stations. In lieu of gates, the lots will feature License Plate Reader technology to keep track of when commuters enter and leave. In order to ensure that parking patrons are transit riders, Metro's innovative TAP ridership identifier software will be installed at the pay stations. This will prevent non-riders from purchasing tickets and taking up space that could have been used by commuters.
Kevin Litwin, Chief Operating Officer for Joe's Auto Parks, sees this partnership as the best way forward for parking companies. He states "There has been a rise in the population of vehicles in the last couple of years, and we've seen how parking in downtown LA has been impacted because of it. We love the fact Metro is striving towards a solution, and we are happy to be a part of it. This is a great opportunity for both of our companies to expand, and we look forward to serving commuters in surrounding LA counties."
Joe's Auto Parks is well known throughout Downtown Los Angeles. Operating for over 50 years and managing 90+ parking facilities in DTLA, Joe's provides convenient parking for automobile commuters throughout the city. Joe's Auto Parks is honored to add Metro to their third-party parking management portfolio, which includes several commercial and residential properties.
According to Frank Ching, the Senior Director of Parking Management for Los Angeles Metro, MTA believes Joe's Auto Parks' experience and overall preparedness make them a great fit for bringing a visionary project to life. "Their deep familiarity with the geographic area made them the obvious choice," said Ching. "Joe's proposal was detailed, and they quickly assembled a knowledgeable and experienced team. They are by far the best qualified firm for this contract."
Starting as early as April 2017, you'll see automated pay stations at the Red Line, located at Universal and North Hollywood; at the Gold Line, located at Citrus, Irwindale, and Atlantic; and at the Expo Line, located at the corner of La Cienega and Jefferson. If all goes as planned, you can also expect to see pay stations at Norwalk, Lakewood, and Aviation (Green Line), along with El Monte (Silver Line), shortly following the initial installations.
About Joe's Auto Parks
Joe's Auto Parks is downtown Los Angeles's largest privately owned parking operations and management company. With DTLA parking becoming increasingly hard to find, Joe's Auto Parks proudly provides 90+ surface and garage locations featuring both self and valet parking.