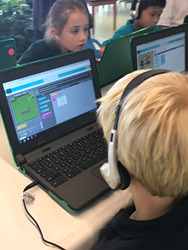 Whatever career you choose in life, you will discover that the relationship between you and machines is going to become important. -John Sculley
West Palm Beach, Florida (PRWEB) December 14, 2016
As part of Computer Science Education Week, students at The Greene School participated in an Hour of Code with their parents on Friday afternoon. Led by Greene's Chief Information Officer, Brett Hannan, the event was a huge success. Parents were invited to join, and also learned about coding from Greene School teachers, as well as from their children in Pre-K through Grade 4. Technology – coding, engineering, robotics, etc - is a centerpiece of the Greene School curriculum, and students learn to code beginning in Pre-K.
A big surprise for the audience was a visit by John Sculley, the former CEO of Apple. Sculley told the children that "whatever career you choose in life, you will discover that the relationship between you and machines is going to become important." Sculley encouraged students to continue coding, and learning about computer science.
The Hour of Code is a global movement, which reached tens of millions of students in 180+ countries. According to the Computer Science Education Week website (http://www.csedweek.org), 198,000 organizers supported the Hour of Code Campaign this year.
About The Greene School:
The Greene School opened this September with 40 students in Pre-K through Fourth Grade. Grades 5 and 6 will be open Fall of 2017, and Grades 7 and 8 in Fall of 2018. Plans are in the works for an additional middle school building with a state-of-the-art library, gymnasium and theater. The Greene School is suited for academically-advanced, highly-motivated students. The accelerated above-grade-level curriculum has been specifically designed for bright, curious and joyful learners. The Greene School's cross-curricular approach encourages critical thinking, creativity, communication, collaboration and compassion, and provides students with the education and tools necessary to prepare them for a dynamic world. Every student at The Greene School is provided with a personalized approach to learning, tailored to his or her needs, interests, goals and strengths. The Greene School is located at 2001 South Dixie Highway in West Palm Beach.