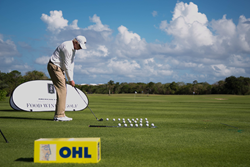 Riviera Maya, Mexico (PRWEB) December 14, 2016
Mayakoba, an award-winning resort in the Riviera Maya, will host several events in 2017 that will cater to athletes, gastronomists and romantics alike. Set on 1,600 acres of mangrove forests and waterways, and surrounded by natural beauty and sugar sand beaches, event attendees can stay at one of the four resorts on property: Fairmont Mayakoba, Banyan Tree Mayakoba, Rosewood Mayakoba and the newest resort, Andaz Mayakoba, which opened its doors in December.
2017 Events include:
CASAR (February 17-18, 2017; and August 17-18, 2017) – A weddings trade show with more than 40 wedding professionals, including a variety of suppliers, vendors, planners and industry experts. Admission is free and it is hosted at El Pueblito, a colonial-inspired plaza at the heart of the resort.
Mayakoba Invitational Pro/Am (February 16-19, 2017) – Teams of three guests and one touring professional compete in an exclusive golf event with touring professionals from major worldwide tours such as PGA Tour, Champions Tour, Web.com Tour, LPGA Tour, and Symetra Tour players. 
Carnaval Mayakoba (February 24, 2017) – A parade of colors and music through the waterways of Mayakoba.
Riviera Maya Beer & Street Food Fest (March 11, 2017; and October 21, 2017) – A presentation of artisan beer and street food from the Riviera Maya, Mexico and around the world. Guests sample more than 30 types of craft beers with live music and DJs performing, all set in the stunning El Pueblito of Mayakoba.
Fun Run Mayakoba (April 14, 2017) – An event for guests and locals to enjoy the natural environment with a unique route through mangroves, golf course, beach and nature trail.
Mayakoba Masters of Food, Wine & Golf (April 20-23, 2017) – A four-day weekend celebrating the best of sport, spirits and gastronomy presented by American Express. A two-day golf tournament is paired with exclusive access to a series of lunches and culinary demonstrations from internationally-acclaimed chefs.
Mayakoba Winefest (May 12, 2017) – Event that brings together the best wines of Argentina and Mexico in El Pueblito at Mayakoba.
Copa Mayakoba – Rally Riviera Maya and AeroMexico (May 27, 2017 and June 3, 2017) – A two ball golf scramble packaged with a two-night stay, airport transfers, breakfast and dinner at Koba Restaurant.
Mayakoba Playa Fest II (July 2-5, 2017) – A culinary and athletic fest that includes stand-up paddle clinics, races, yoga, beach volleyball, and sand sculpture contests.
ILTM (September 25-28, 2017) – The leading event for the luxury travel industry in the Americas where travel agents and advisors meet the best luxury travel experiences.
La Vuelta Mayakoba (October 14-15, 2017) – A two-day bicycle race from Mayakoba to Tulum for cyclists of all levels. They will race over 109 miles through the Riviera Maya and enjoy scenic views of the Caribbean and iconic Mayan ruins
OHL Classic (November 6-12, 2017) – The OHL Classic is the only PGA TOUR event in Mexico, hosted at El Camaleón, an 18-hole golf course unique for its fairways lined with sand dunes, mangroves and distinctive hazards.
Turkey Trot (November 24, 2017) – Burn off hearty Thanksgiving meals with a 5K race throughout the Mayakoba nature trails.
Mayakoba Couples Classic (December 6-10, 2017) – A 54-hole partners event, featuring a different format of play each day.
Mayakoba Music and Street Food Festival (Stay tuned for the dates) – Exceptional food, wine and spirit tasting experiences will be available at a street food festival and eclectic sounds.
Jingle Run (December 23, 2017) – Kick off the festive season with an organized 5K run through the Mayakoba nature trails.
For more information, please visit http://www.livemayakoba.com, contact Mayakoba at [email protected] or call +52 984 873 4900.
About MAYAKOBA: Located in the Riviera Maya just 15 minutes from Playa del Carmen, Mayakoba is an eco-friendly resort development on the shores of the Caribbean in Mexico. Surrounded by natural beauty in its lagoons, pools and sugar sand beaches, Mayakoba is home to four luxury hotels – Fairmont Mayakoba, Rosewood Mayakoba, Banyan Tree Mayakoba and Andaz Mayakoba. The resort also offers a spectacular 18-hole course designed by renowned architect and PGA legend Greg Norman. The signature course is home to the OHL Classic at Mayakoba – the only PGA TOUR event in Mexico. Six miles of freshwater lagoons and lead to a white sand beaches with turquoise waters on the Caribbean Sea and connect all of the hotels. Mayakoba is an eco-conscious development and has implemented significant practices to encourage sustainability. For more information, please visit http://www.mayakoba.com
Media Contacts:
Sara Swiger
Castillo & Ruig Communications
310.664.8841
sswiger(at)discovercrc(dot)com