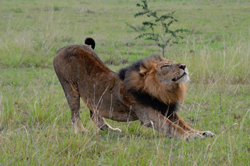 We are really looking forward to celebrating Uganda's first ever Lion Day! Lions are such an important part of Uganda's cultural heritage and tourism economy and taking a day to appreciate this is long overdue.
Muhoyka, Uganda - Africa (PRWEB) December 13, 2016
Oakland Zoo, with conservation partner UCP (Uganda Carnivore Program), is co-hosting the first-ever Lion Day tomorrow in the town on Muhoyka, Uganda. The specific location for the event is called "Leopard Village" and is a community-run tourism site near Queen Elizabeth National Park, was developed by local villagers in cooperation with the Uganda Carnivore Program.
Uganda's first Lion Day is a public event and open to all, organized to celebrate local culture and educating people about the endangered African Lion. Festivities will include learning about lions and lion conservation, games, music, dancing and other activities that celebrate all things lion. All local residents, lodge and safari operators, tourists, local businesses, other NGOs, and Uganda Wildlife Authority staff are invited to join in the festivities.
The effort to save lions, Africa's apex predator, could not be more important. The International Union for the Conservation of Nature (IUCN) just released known numbers of lions, which shows a 43% reduction from their population over the last 21 years. The most likely contributors to the decline are the killing of lions in defense of human life and livestock, habitat loss, poaching and the bushmeat trade.
According to Dr. Ludwig Siefert, team leader of the Uganda Carnivore Program, "Lions will only survive if their needs and the needs of the neighboring communities are balanced. Lion Day will increase awareness and appreciation of both."
This is the second 'hands on' collaboration with UCP in the name of conservation for Oakland Zoo. Last year, Oakland Zoo veterinarian, Dr. Andrea Goodnight, traveled to Uganda in an effort to assist the UCP in their daily conservation activities, while also conducting a study to evaluate stress hormone levels in African lions in the park. (Read Dr. Goodnight's blog on the experience)
"We are really looking forward to celebrating Uganda's first ever Lion Day! Lions are such an important part of Uganda's cultural heritage and tourism economy and taking a day to appreciate this is long overdue. We wanted to get together to celebrate with the people who live the closest to lions and what better location than in a village near Queen Elizabeth National Park. We are especially excited to have our friends from the Oakland Zoo with us on this day, since Oakland Zoo have done so much to support the people, lions and other wildlife of Uganda," said Monica Tyler, Director of the Uganda Carnivore Program.
"Humans and wildlife are tightly linked on our planet - the well-being of one often depends on the well-being of the other. It is a great honor of Oakland Zoo to cooperatively create a day in which we celebrate the majestic African Lion and the wonderful community around Queen Elizabeth Park. Their willingness to live in peace with all animals inspires us all the way on the other side of the world, and that is something to celebrate!," said Amy Gotliffe, Oakland Zoo's Conservation Director.
Download High Res Images Here**
Event Location Directions: Leopard Village is located just outside of Muhokya, which is the first town as you drive from Kasese towards Queen Elizabeth on the Kasese-Mbarara highway. It is situated on the lower side of Muhokya Trading Centre, on the park side of the road, and adjacent to Muhokya Primary School and Muhokya Catholic Church.
About the UCP (Uganda Carnivore Program):
The Uganda Carnivore Program (UCP) is a multi-disciplinary organization devoted to the research and conservation of Uganda's large carnivores, including lions, leopards, and hyenas. UCP's primary focuses are scientific research and monitoring, and community-based conservation programs. UCP provides community outreach regarding human-wildlife conflict, education outreach in village schools, and assistance with sustainable community economic development via participation in ecotourism. Oakland Zoo has been a partner with UCP since 2008. http://www.uganda-carnivores.org/
About Leopard Village:
"Leopard Village" is a community-run socio-economic development initiative which supports cultural and wildlife conservation through ecotourism near Queen Elizabeth National Park. Multiple villages participate in the initiative, with the assistance of the Uganda Carnivore Program. The goals of Leopard Village are to assist in the conservation of the area's wildlife and support local people as they regain their traditional custodianship of the local wildlife and other natural resources. Participating villagers receive some economic benefit to help offset the costs associated with living with large carnivores, which prey on livestock. Leopard Village also educates tourists about Uganda's conservation challenges and rich cultural traditions.
About Oakland Zoo:
The Bay Area's award-winning Oakland Zoo is home to more than 660 native and exotic animals. The Zoo offers many educational programs and kid's activities perfect for science field trips, family day trips and exciting birthday parties. Nestled in the Oakland Hills, in 525-acre Knowland Park, the Zoo is located at 9777 Golf Links Road, off Highway 580. The East Bay Zoological Society (Oakland Zoo) is a nonprofit 501(c)(3) organization supported in part by members, contributions, the City of Oakland and the East Bay Regional Parks. For more information please visit our website at http://www.oaklandzoo.org.