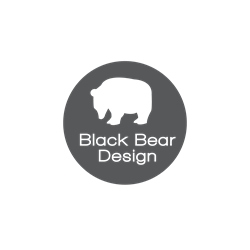 Our company culture and philosophy are based upon quality and customer service – the things that keep our clients coming back.
Atlanta, GA (PRWEB) January 03, 2017
Black Bear Design, an Atlanta based website and digital marketing agency offering an array of marketing services to small to mid-size businesses has had it's most successful year to date. In 2016, the design firm saw new awards, rolled out additional services, expanded their team, and increased client and strategic partnerships. By January 2017 they will be expanding their office space to beautiful, Historic Chamblee, Georgia.
In 2016, Black Bear Design was awarded several significant awards, including a 2016 Silver Davey Award for their work designing an informative infographic for a nationally recognized company. They were also recognized and awarded Top Atlanta Web Designer and Top Atlanta Digital Agency by Clutch, Top Atlanta Web Designer by UpCity, a Top Interactive Agency in Atlanta, and most recently awarded the Graphic Design USA award for the 2016 American Graphic Design Awards, an incredibly prestigious accolade in this industry. They're continuing to be presented with top graphic and web design awards through industry leaders and influencers.
In addition to their robust trophy case, Black Bear Design was able to strengthen client relations this year, leading to a 35% growth due to broadening its line of services. Thanks to this shift in offerings and a stronger client base, the company recently hired two new professionals for their team in order to meet the demands of their clients, a Marketing Coordinator and Social Media Strategist.
With a bigger team and more clients, comes the need for a bigger space. The team at Black Bear is happy to announce their new office located in the heart of Historic Chamblee, Georgia. The new headquarters features 2,000+ sq. ft. of state-of-the-art ergonomic design. The new workplace serves as a gentle reminder of the history that's long existed in the building, and as a compliment to the agency's unique culture which is displayed in the space's arrangement.
In addition to the new office space, the firm hopes to expand their footprint throughout the Southeast region. Founders Randee and Joel Black hope to develop new Black Bear offices in Birmingham, Nashville, and Charlotte beginning in early 2017.
A full service digital design agency from graphic design, copywriting, and website development to pay-per-click marketing and search engine marketing management, Black Bear Design offers a host of services to an array of small to mid-size businesses looking to enhance their image.
Founder and CEO Randee Black says, "We're very excited about the tremendous growth we had this past year and are looking forward to introducing new products and services to our clients, including print, promotional, video and app development. In addition, the company is partnering with local support vendors to provide Managed IT services that our clients are in need of on a daily basis."
Black Bear's goal is to be a turnkey solution for clients, which they've already accomplished this year. They take pride in their customer relationship initiatives and quality of work that's made them successful for the past 12 years.
Black says, "We are blessed to be in this service oriented industry because businesses need an online presence to be able to compete in this competitive market. Our company culture and philosophy are based upon quality and customer service – the things that keep our clients coming back."
Black Bear is continuously seeing their hard work over the years pay off and 2016 was no exception. From the award winning recognition for their work in graphic and website design and development, to their expansion internally and externally, Black Bear Design continues to move forward and rethink digital marketing.
About Black Bear Design
Black Bear Design is an Atlanta-based digital agency offering social media, online marketing and website and graphic design services to small to mid-size businesses. We are a dedicated group of marketers and designers committed to providing stellar service to clients across the country. Interested in learning more about us or how we can help amplify marketing efforts? Please find out more at https://www.blackbeardesign.com/