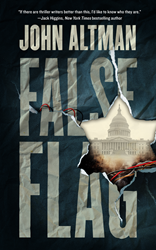 Josh Stanton, President and CEO of Blackstone Publishing, remarks: "False Flag is one of the most exciting titles we've had the pleasure of working on, and certainly a key 2017 release for Blackstone Publishing."
Ashland, OR and New York, NY (PRWEB) December 14, 2016
Blackstone Publishing is proud to announce the upcoming release of False Flag [Blackstone Publishing; May 16, 2017; hardcover, e-book, and audiobook narrated by Edoardo Ballerini], a daring new thriller by John Altman, author of the acclaimed novels Disposable Asset and A Game of Spies.
In False Flag, Israeli-born Dalia Artzi, a tactical genius and specialist at Princeton in the study of maneuver warfare, uncovers a fiendish plot by a small group of Israeli fanatics to commit a horrific crime against the United States government and pin the blame on Iran. At first, Dalia, a pacifist, is hesitant to get involved. But she recognizes that extremism of any kind is the real enemy in the world and, strong in her Jewish faith, she believes that the goal of her religion is not to crush one's enemies but to practice tikkun olam, to repair the world. Soon, Dalia sees that she has little choice but to act quickly and do what she must to prevent the unspeakable from occurring.
Meanwhile, Jana, a beautiful but deadly Israeli operative taking orders from the conspiring fanatics, is determined to deftly fulfill the deadly mission entrusted to her. Once the plot has been carried out, Jana and the commanders of her mission believe that Israel's enemies will meet with total destruction when the world's most powerful nation retaliates. Jana is firm in her conviction that she is on the side of right, and believes the ends will justify the means, however violent.
Josh Stanton, President and CEO of Blackstone Publishing, remarks: "We are thrilled to be working with John Altman, and to have concluded this exciting book deal with Richard Curtis Agency. False Flag is one of the most exciting titles we've had the pleasure of working on, and certainly a key 2017 release for Blackstone Publishing."
Centered on a fascinating and original Israeli heroine and anti-heroine, False Flag probes some of the most important political and moral conflicts of our times. Altman examines extremism in its many incarnations and the complex pitfalls humans encounter when they try to do what is right, no matter the cost. In the process, he continues his tradition of creating ruthless female assassins, delivering his most terrifying creation yet. Riveting espionage, struggles of conscience, and edge-of-your-seat intrigue combine to make False Flag one of the most compelling and controversial thrillers of 2017.
Author Biography
A Gathering of Spies, John Altman's debut novel, came out in 2000; Publishers Weekly called it "an irresistible page-turner from a welcome new voice in the genre". Since then, Altman has brought to life international intrigue from the early days of World War II ("John Altman proves himself worthy of the highest ranks in the espionage genre", Barnes & Noble on A Game of Spies), through Eisenhower's postwar America ("Violent, suspenseful, fast-paced, and chockablock with unexpected twists", Booklist on The Art of the Devil), to the Code Orange Age of the 'War Against Terror' ("Forget the competition for Thriller of the Year; John Altman has already won it", St. Louis Post-Dispatch on The Watchmen). Disposable Asset takes place against the backdrop of ongoing brinksmanship with Putin's Russia. ("This can't-put-it-down spy thriller introduces the most deadly and proficient young woman warrior since the Hunger Games' Katniss Everdeen", Publishers Weekly, starred review.)
In addition to writing fiction, Altman has worked as a teacher, musician, and freelance writer. His thrillers have sold over a quarter-million copies in the United States, the United Kingdom, Italy, Japan, Poland, and the Netherlands. He lives with his wife and children in Princeton, New Jersey.
Publication Information
Title: False Flag: A Novel
Author: John Altman
Release Date: May 16, 2016
Publisher: Blackstone Publishing
Pages: 364
Narrator: Edoardo Ballerini
Formats, ISBN, Price:
Hardcover Print Book: 978-1-5047-9772-6; $26.99
Trade E-book: 978-1-5047-5856-7; $TBA
Audiobook Retail CD: 978-1-5047-9621-7; $34.95
For more information and to pre-order visit: http://www.blackstonepublishing.com/titles/false-flag
Author's Website: http://www.johnaltman.net/
Request a digital arc on Edelweiss and Netgalley.
Available for purchase online and at brick-and-mortar retailers.