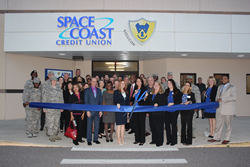 SCCU was founded here on base, so it is fitting that we are celebrating the relocation of our new PAFB branch during the credit union's 65th anniversary.
Patrick Air Force Base, FL (PRWEB) December 14, 2016
Space Coast Credit Union (SCCU) celebrated the grand opening of its recently relocated branch on Patrick Air Force Base (PAFB), home of the credit union's very first location. The day was recognized with a special ribbon cutting ceremony attended by military representatives, SCCU members, and SCCU leadership.
To better serve military personnel, base employees, and retired military, the branch – now located at 1221 Patrick Drive, Patrick Air Force Base, FL 32925 – was moved to its new, more convenient position inside the Base Exchange and opened for business on July 18, 2016.
In addition to the ribbon cutting ceremony, SCCU hosted a week-long celebration at the branch which included several giveaways and special events for residents and employees living on base, such as the opportunity to take a holiday from their auto loan payments until spring 2017.*
The new, full-service location offers members checking and savings accounts, home and auto lending, retirement services, safe deposit boxes, commercial and business lending, and ATM and drive-through services.
"SCCU was founded here on base, so it is fitting that we are celebrating the relocation of our new PAFB branch during the credit union's 65th anniversary," said Beverly Smith, Director of Retail Services for North Brevard. "We are pleased to offer this new location to members living on or visiting the base – especially those who are active or retired military. The Base Exchange is truly the hub of commerce here, so moving to this new location aligns perfectly with our philosophy of placing branches along our members' errand routes."
Originally founded by seven civil service employees as Patrick Air Force Base Credit Union in 1951 to serve as a savings institution and source of credit for military personnel stationed at the base, SCCU's extensive network of 58 branches now dot Florida's east coast, stretching from Flagler to Miami-Dade County.
"While many things have changed over the years at the credit union, one thing has remained constant – we are a member-owned organization, and we exist solely to serve our members," said Timothy M. Antonition, Executive Vice President and Chief Operating Officer of Operations. "I look back at the foundation that was provided to us by our founding members, and I am grateful for the solid direction they set for us."
###
Space Coast Credit Union was chartered in 1951 and is headquartered in Melbourne, Florida. The credit union serves more than 330,000 members with assets of over $3.7 billion through a network of 58 branches and over 100 ATMs located throughout Florida and through its website SCCU.com. Space Coast Credit Union is open for membership to anyone who lives or works in the fourteen Florida counties it serves.
*Deferred Payment: Optional. Interest accrues from date of contract. Qualified borrowers only. First payment may be deferred up to six months and is dependent upon when your loan closes, your deferment may be six months or less. Deferred payment not available for refinances of existing SCCU auto loans. Certain restrictions apply. Offer subject to change and may be withdrawn without notice.