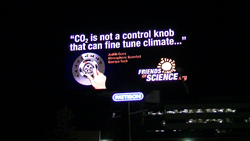 Albertans don't want the carbon tax or climate plan
Calgary, Alberta, Canada (PRWEB) December 14, 2016
Friends of Science Society says the Alberta NDP government's carbon tax and climate change plan face growing resistance from the public, evidenced by the enthusiastic rally organized by The Rebel Media as reported by Metro News Dec. 11, 2016. Federal Conservative Party Candidate Brad Trost, a geophysicist and economist, challenged climate change dogma to the delight of the crowd, but the NDP issued a release on twitter Dec. 12, 2016 saying he'd 'denied the science of climate change.'
The Alberta government is spending some $9 million to sell their climate plan and carbon tax to citizens, many of whom are vocally opposed, as reported in the Calgary Herald as reported by CBC on Dec. 07, 2016 LINK: cbc.ca/news/canada/edmonton/climate-change-advertising-blitz-1.3886612
The Rebel Media has caught the imagination of the Canadian public through its brash exposes, accused of driving "Trump-style" politics by mainstream media as reported by Global News of an earlier Dec. 5th, 2016 Rebel Rally. The Rebel counters these reports as missing the real story – Albertans don't want the carbon tax or climate plan.
Alberta is suffering the highest unemployment rate in 22 years as reported by the Huffington Post on Dec. 2, 2016. LINK: huffingtonpost.ca/2016/12/02/alberta-unemployment-rate_n_13373024.html
Albertans, many other Canadians and Americans, are hopeful that the new Trump administration in the US will open up Keystone XL pipeline approvals, and douse left-wing Canadian plans for carbon taxes, as outlined in Lorrie Goldstein's op-ed in the Toronto Sun of Dec 13, 2016.
Keystone XL was rejected by Obama, blockaded by various campaigns funded by wealthy 'green' investors, as reported May 6, 2014 by the GOP. LINK: gop.com/meet-tom-steyer-the-man-stopping-keystone/ Numerous anti-oil eco-groups also campaigned against it, as reported in the 9th Annual International Funders of Indigenous Peoples report of May 2010 (page 47) LINK: internationalfunders.org/wp-content/uploads/2014/10/IFIPConferenceReport2010.pdf and Counterpunch on Oct. 16 2013 LINK: counterpunch.org/2013/10/16/how-tides-canada-controls-the-secret-north-american-tar-sands-coalition/
Friends of Science Society was formed in 2002 to challenge the unsound science and economics of the Kyoto Accord. Friends of Science hold the position that the sun is the main direct and indirect driver of climate change, human carbon dioxide emissions have only a nominal effect on climate.
About
Friends of Science has spent over a decade reviewing a broad spectrum of literature on climate change. Friends of Science is made up of a growing group of earth, atmospheric and solar scientists, engineers, and citizens.
Friends of Science Society
P.O. Box 23167, Mission P.O.
Calgary, Alberta
Canada T2S 3B1
Toll-free Telephone: 1-888-789-9597
Web: friendsofscience.org
E-mail: contact(at)friendsofscience(dot)org
Plain language website: climatechange101.ca