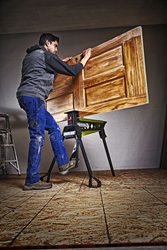 Charlotte, N.C. (PRWEB) December 15, 2016
If Santa had the new Rockwell tools in his workshop, he'd be whistling away and marveling at all the creative gifts he can build. A great stocking stuffer is Rockwell's new Extended Life 1-3/8 in. Carbide-tipped oscillating tool blade, plus workshop additions like the F80 Duotech™ Oscillation Sonicrafter®, BladeRunner™ X2 and the JawHorse® would excite any do-it-yourselfer.
The new Rockwell® Extended Life 1-3/8 in. Carbide-Tipped oscillating tool blade makes a great stocking stuffer under $20. This high-performance cutting blade delivers the best performance and durability of any multi-tool accessory for cutting the toughest materials, including ferrous and non-ferrous metals, hardwoods, tile, hardened fillers and more. It's the blade to reach for when the cut is crucial, and a high-speed-steel or bi-metal blade can't do the job.
The extended life carbide-tipped blade is ideal for making long or intricate end cuts, as well as plunge cuts up to 1-5/8 in. deep. Carbide teeth make short work of numerous DIY tasks, such as cutting galvanized pipe, cement board, sheet metal, slate, rebar, stainless steel bolts, hardened screws and plastic, to name a few.
The Rockwell Extended Life 1-3/8 in. Carbide-Tipped Oscillating Tool Blade is available in a single-pack (RW8963, $19.99) or 2-pack (RW8963.2, $29.99) at Lowe's, Amazon and other retailers. Rockwell offers a total of 50 different oscillating tool accessories, each designed to provide specific project solutions.
Rockwell makes choosing the right oscillating multi-tool easy. Its latest addition is the Rockwell F80 Duotech Oscillation Sonicrafter that provides users a choice of two oscillating angles: 5.0° and 3.4°. Now, tool owners can choose the 5.0° oscillating angle for projects requiring fast, aggressive cuts with quick results or a 3.4° angle for continuous control.
The F80 works harder and faster than any other multi-tool. It can be used at a 5.0° oscillating angle with an end-cut blade to make short work of cross-cutting, ripping or making plunge-cuts in wood and other materials. This option also is useful for trimming doorjambs, clipping nail heads and cutting PVC or metal plumbing pipes. Switch to a 3.4°angle, using a rigid scraper blade, to remove blistered paint, take rust to bare metal or scrape hardened caulk or adhesives.
The F80 also features the industry's best maximum cutting load of 35 lbs. of force. This means it can be pushed harder than any other brand of multi-tool without stalling the blade.
The oscillating multi-tool has a powerful 4.2 amp motor that delivers 10,000 to 19,000 oscillations per minute, and incorporates electronic constant speed control that maintains the tool's operation rate under load.
The tool also includes Rockwell's Universal Fit™ that enables the F80 to accept other major brands' accessories without adapters and Hyperlock™ tool-less blade change system that provides one ton of clamping force to prevent accessory slippage.
The Rockwell F80 Duotech Oscillation Sonicrafter (RK5151K, $159) is available at Lowes and rockwelltools.com. Rockwell Sonicrafters have a 3 year warranty.
The Rockwell BladeRunner X2 is one unique portable benchtop saw. It can cut nearly everything in its path including wood, PVC, plastic, aluminum and other non-ferrous metals plus ceramic tile by using standard T-shank jigsaw blades. It takes the place of a hand saw, hack saw and miter box by making quick and accurate rip, scroll, crosscuts, inside cuts and miter cuts.
BladeRunner X2 is ideal for home workshops, garage-based shops, and basements. Make quick, accurate and easy miter saw cuts in wood for molding and trim, picture frames or sign making. Make intricate inside cuts where precision counts. Cut ceramic tile for kitchen back splashes or insets for bathroom/shower tile work.
Winter is the ideal time of the year for project building and creating craft projects indoors. What makes the BladeRunner X2 ideal is that it can handle a variety of projects by simply changing blades. It's also affordable, compact and weighs less than 15 lbs.
The innovative 3000 spm saw is powered by a 5.5-amp motor. The saw's cutting capacity is 1 ½ in. in wood; 1 ¼ in. in PVC; 3/8 in. in aluminum and ceramic tile, and 1/8 in. in mild steel. The blade stroke is 3/4 in.
The saw includes an on/off paddle switch with safety key to prevent unauthorized use, 6 ft. power cord and a built-in handle to carry the saw. The Rockwell BladeRunner X2 is covered by the Rockwell 3-year warranty.
The Rockwell BladeRunner X2 (RK7323, $99.99) is available at rockwelltools.com and online retailers including online websites, including Lowes, Amazon and Menards.
Every workshop needs a workstation and the Rockwell JawHorse is the ultimate one. This 43-lb. workhorse has jaws that open up to 37 in., more than three times the width and 10 times the clamping power of conventional bench vises. Plus, it supports loads up to 600 lbs. with one ton (2,200 lbs.) of clamping force. Bundle those features with its patented hands-free foot-activated pedal clamping system and you have a real tour de force.
What's handy about JawHorse is that it goes anywhere and sets up fast. Fold up its legs and throw it in the truck, or place it in the trunk for easy transport to the jobsite or back 40. Builders, subcontractors, do-it-yourselfers and hobbyists often need an extra set of hands when it comes to projects, such as hanging doors, sanding or refinishing cabinets, cutting lumber, holding fence posts, repairing antiques, securing odd-shaped objects and more. It easily secures a bicycle for maintenance, such as replacing a chain, tightening spokes or polishing rims.
This rugged work station is constructed of heavy-duty powder-coated steel throughout. Its three-legged, wide-stance tripod design has solid footing even on uneven surfaces. The stirrup-like non-slip, rubber-padded front feet help anchor loads, while the plastic-padded rear foot provides additional support. The large roller wheel located on the underside of the bed of the JawHorse provides mobility. When fully collapsed, the rear leg also serves as a carrying handle and a pull handle.
JawHorse is easy to operate. By pumping the foot pedal, the clamping jaw travels 1in. with each stroke of the pedal and compresses against the workpiece until the desired tightness is achieved.
The Rockwell JawHorse (RK9003, $99.96) is available at rockwelltools.com and online retailers, including Amazon, Lowes, Menards and Sears. It's covered by the Rockwell 3 year warranty.
Follow Rockwell through social media links, including, Facebook: https://www.facebook.com/RockwellTools?ref=hl and Twitter: https://twitter.com/RockwellTools.
# # #