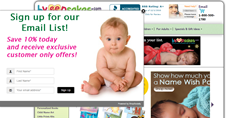 We've been delighted with the impact of the Get-an-Email app. It was exceptionally easy to implement and we began generating results immediately. - Karin Delaney, Owner of Birthday Keepsakes LLC
(PRWEB) December 15, 2016
ShopSocially's Get-an-Email app assisted Birthday Keepsakes, the dynamic personalized gifting company, to convert its website visitors into qualified email subscribers. Email subscribers acquired through this app converted into paying customers at an impressive rate of 37.39%.
Birthday Keepsakes has integrated the app on the homepage of its website. The intuitive interface of the app encourages website visitors to sign up for the company's email subscription program in exchange for an incentive and exclusive customer-only offers. Site visitors signing up for the email list receive an instant coupon code for 10% off their next purchase.
This email acquisition strategy has resulted in converting 4% of the website visitors into genuine email subscribers. Subsequently, 37.39% of the email subscribers ended up making a purchase on the website. Customer retention is also enhanced, with Birthday Keepsakes able to use the email addresses to communicate regularly with customers, send them offers and use other retention and loyalty tactics to keep them engaged.
"We've been delighted with the impact of the Get-an-Email app," commented Karin Delaney, Owner of Birthday Keepsakes LLC. "It was exceptionally easy to implement and we began generating results immediately. We have been able to build up a database of email subscribers, all of whom have opted in while visiting our website. We now have a database of loyal customers who we can send offers to in order to boost sales. The app's results have been very impressive."
The app itself is easy to implement, having been designed to integrate into existing websites with ease. This makes it a fast and efficient way for brands to set up an email subscription program, boosting customer loyalty and retention. Moreover, the app flaunts a mobile-friendly design, a template-driven layout, and a range of analytical tools such as reports and A/B tests. With these innovative features, the app has the ability to double the email subscriber count in just a few months, thus converting 10-15% of website visitors into email subscribers.
"We are happy to see such a solid subscription rate and such an impressive sales conversion rate at Birthday Keepsakes as a result of the Get-an-Email app," commented Samir Palnitkar, President at ShopSocially. "We will continue to empower our clients by helping them with innovative tools to enhance customer engagement and retention on their website."
About Birthday Keepsakes:
Founded in 1994, Birthday Keepsakes LLC offers a wide variety of unique personalized gifts. Beautiful keepsake gifts from Birthday Keepsakes are appropriate personalized gifts for babies, children and occasions like weddings; including day you were born prints, name poems, personalized books and growth charts, and place-mats. Birthday Keepsakes gifts celebrate the important moments in life - both fun and educational, and create memories that our customers will cherish forever.
About ShopSocially:
ShopSocially is a SaaS-based, social, referral and loyalty marketing platform that delivers up to 40% more revenue by enabling an increase in new customer acquisition, engagement, conversion rate and retention. More than 500 global brands are using ShopSocially to grow their business via proven strategies such as referral marketing, visual commerce, customer loyalty, social login, social gamification, customer Q&A and more.
ShopSocially platform offers a comprehensive suite of marketing solutions which eliminates the need to implement multiple, inconsistent solutions and delivers a measurable ROI. Our fully managed services option ensures no additional work for your marketing or IT team.
ShopSocially has won several awards and recognition's for its innovative technology. To learn more how ShopSocially can help grow your business, please contact us at (650) 701-7759 or at http://www.ShopSocially.com