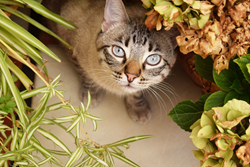 It is important to choose plants that are safe around cats when choosing indoor and garden plants
London, UK (PRWEB UK) 16 December 2016
Popular cat blog Katzenworld has teamed up with Diana Hutchinson to provide it's readers with advice on safe plants for cats.
Who says that plants and cats can't go well together? For those that love these animals and gardening, the latest safety guide on is a good place to start at looking at safe options for a home.
As most people know, cats love biting and nibbling different things, and this is the reason why selecting plants that are safe to be eaten by them is an essential aspect of choosing plants. They are born carnivores though they love having greens in their diet once in awhile. The problem is, cats might find house plants at home fun to chew on. That is why it's important to know which plants are safe to have around them.
Far too often cats and other animals end up getting exposed to toxic plants that could easily be avoided if proper research is done prior to adding a certain plant to a home or garden.
For full details of cat safe plants check out the full guide on Katzenworld.
About Katzenworld:
Katzenworld is an online cat magazine working on providing cat owners and cat lovers with their number one source for:

Insight on cat care
Top cat events
Cat Cafes
Cat products