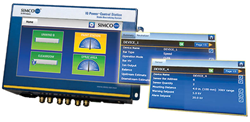 Hatfield, PA (PRWEB) January 11, 2017
Simco-Ion is proud to introduce the newly updated IQ Power Control Station. The Control Station is the central monitoring device of the multi-patented IQ Power Static Neutralizing system.
Incorporating the latest in ionization technology, the Control Station now includes a large 10 inch full-color touch screen designed with an intuitive user-friendly interface that helps you monitor and control your complete static neutralizing system globally or by device. It is capable of monitoring up to 10 neutralizing or sensing devices through 10 RJ45 connections and/or through 6 newly added robust M12 connectors.
It is now equipped with a Standby Mode for disabling the neutralizer's high voltage during equipment maintenance or inactivity. Standby Mode can be enabled globally through the Control Station port or by individual device via PLC. The Control Station also features Fieldbus Interface capability providing network compatibility for a variety of communication protocols. Flexible and flush mount options are now available.
The Control Station has been an industry leader in innovation by offering data logging and retrieval, user set alarm thresholds, and patented closed-loop functionality that provides unbeatable ionization performance that's plug and play ready!