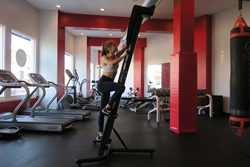 (PRWEB) December 20, 2016
The focus group is designed for all people, from absolute exercise beginners to seasoned athletes. It will be ideal for people wanting to . . .

Discover the most effective fitness trainer on the planet
Learn how to burn more calories in less time
Find out how to ramp up their metabolism 24/7
Get a head start on their 2017 resolutions
Lose body fat
According to Byrd, the "VersaClimber is such a great overall body exerciser that we want to make it available to everybody. With Xmas being the time that many people over indulge, this is the ideal time to discover the VersaClimber difference."
The Event
What: VersaClimber Focus Group
When: Begins Tuesday, December 20, 2016
Where: Elite Training, Boston
150 Belmont Street
Watertown, MA 02472
Contact: William Byrd:
will(at)elitetrainingboston(dot)com
The VersaClimber
The Versa Climber has been described as "the greatest piece of fitness equipment ever devised" by fitness personality and trainer Mark Sisson.
VersaClimbing combines both upper and lower body exercises into one natural vertical climbing motion. It features a patented vertical climbing design which places the body in the ideal positioning to activate all muscle groups. A strong emphasis is on core development.
The Trainer
William Byrd is a certified personal trainer with accreditation from the International Sports Sciences Association (ISSA) and Functional Movement Systems (FMS). He has trained hundreds of clients to achieve the shape of their lives, including professional sports people striving for peak performance, housewives looking to drop extra pounds and celebrities intent on nailing a role.
Byrd has long been passionate about the benefits of training on the VersaClimber. He discovered the VersaClimber several years ago and has, ever since, harbored a dream to bring its benefits to his East Coast clientele. After a months long research trip on the West Coast, he has developed what he believes to be the most complete, results producing programs available anywhere.
Byrd operates Elite Training Boston, a fully equipped training studio out of Watertown, MA. In addition to a selection of brand new VersaClimbers, the facility features a full range of Eleiko bars and resistance plates, along with more traditional cardio equipment such as rower and treadmills.
Byrd offers individual training sessions, where the client is able to choose from a range of workout options including bodyweight, resistance, the VersaClimber or a combination of these. He also offers group classes, which are limited to four in order to retain the personal touch.
The Studio
Elite Training Boston is a fully equipped, state of the art fitness training studio. It offers the perfect match of fully equipped functionality and personalized attention to detail service.
Elite Training Boston offer classes every 45 minutes throughout the day between 6am and 7:00 pm.
The studio is located at:
150 Belmont St, Watertown, MA 02472
617-505-2627
Contact Information:
Elite Training Boston
150 Belmont St, Watertown, MA 02472
617-505-2627
will(at)elitetrainingboston(dot)com