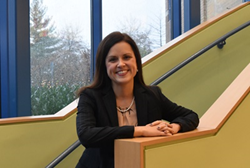 Erin has very strong roots serving and leading Baltimore's education and health communities.
Baltimore, Maryland (PRWEB) December 16, 2016
After an extensive search,The Hearing and Speech Agency (HASA) has selected Erin Stauder to be its next Executive Director. She will succeed Susan Glasgow, who served as director for 22 years.
Ms. Stauder will take the lead of an organization with a strong history in the Baltimore community. Founded in 1926 as a meeting place for the hard of hearing, HASA has evolved to serve the interpreting, educational and therapeutic needs of children and adults through CIRS Interpreting, Gateway School and a clinical services program.
Since 2006, Erin has been a member of the clinical faculty at Loyola University Maryland. There she managed the clinical internship program for speech-language graduate clinicians at multiple locations in Baltimore City. Prior positions include serving as an Advanced Therapist with the University of Maryland Medical Center and also managing and providing a variety of services to young children through Easter Seals of Southeastern Pennsylvania.
Erin earned Bachelor of Arts and Master of Science degrees in Speech-Language Pathology from Loyola College Maryland and is pursuing her doctorate in public policy at the University of Maryland, Baltimore County. Her colleagues describe her as a gifted leader and manager, able to make difficult decisions, yet collaborative in her leadership style. She states: "Access to language and communication has been an integral part of my educational and professional career, so I already feel connected to HASA's mission. I'm excited to work with the board and staff to continue to move the organization forward."
The board's search committee was led by committee chair Peter Bosworth, board president Aaron Marshall and Dr. Jane R. Snider of Heads-Up Consultants. The inclusiveness of the search process and the outcome reflect the committee's extraordinary dedication and service to HASA and its mission.
ABOUT THE HEARING AND SPEECH AGENCY
The Hearing and Speech Agency (HASA) is a private, non-profit organization that provides hearing and speech services, offers an information resource center and advocates for people of all ages with communication challenges. Services include hearing tests, hearing aids, hearing-aid repair, speech-language evaluations and therapy, listening and spoken language services, pre- and post-cochlear implant services, occupational and physical therapy, special education, sign language interpreting, sign-language classes, Deaf awareness seminars, social work, and parent support groups.