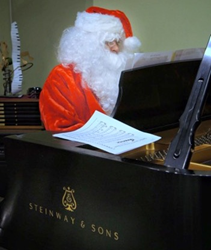 New Orleans, Louisiana (PRWEB) December 14, 2016
Hall Piano Company invites families and friends to come see Santa perform on a Steinway grand piano at Children's Hospital on Friday, December 16th, from 10:00-11:00AM. In addition to their traditional in store annual "Santa and a Steinway" event, Hall Piano added the Children's Hospital program featuring New Orleans Piano Professor and Steinway Artist Matt Lemmler.
Lemmler stated, "I continue to be filled with awe as I envision the world's greatest composers, pianists, arrangers, and conductors birthing America's greatest classical and jazz music through wonderful Steinway instruments – instruments created to channel music from the heavens through the spirits behind the keys. Steinway has always given me that spiritual place to flourish when I'm creating my music, as I seek to inspire and heal through music."
A Steinway grand piano will be delivered to Children's Hospital for this fun and interactive concert. The event is free and open to the public. Steve Kinchen, co-owner of Hall Piano Company, said, "Our hope is to give back to the children and families of our community through this fun and interactive concert. For most people, music makes the holidays more memorable."
The event is sponsored by Hall Piano Company, Louisiana's premier Steinway & Sons dealer, located at 901 David Drive in Metairie. In addition to piano lessons, Hall Piano's services include piano sales and rentals, acoustic and digital piano sales, and method books. Adult lessons are also available.
For additional information about Hall Piano Company and the Santa and a Steinway event, contact Emily McWilliams at emilym(at)hallpiano(dot)com or call 504.733.TUNE.