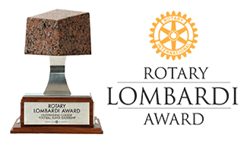 Houston, TX (PRWEB) December 14, 2016
The four finalists for the Rotary Lombardi Award were announced today and for the first time includes a quarterback, along with two defensive ends and a linebacker. The award ceremony, to be held at the Houston hobby Center, Saturday, February 11, 2017, will announce the final winner who best demonstrates outstanding performance and skill in their position and best exemplify the discipline, virtue and wisdom that defined Vincent Lombardi's exceptional brand of leadership.
Final Four Rotary Lombardi Award Candidates:
Name - Position - University
Jonathan Allen , DE - Alabama
Lamar Jackson, QB - Louisville
Jabrill Peppers, LB/DB - Michigan
Myles Garrett, DE - Texas A & M
Players earned a position on a preliminary watch list by receiving All-American honors, being named to their respective all-conference teams, or by receiving 2016 pre-season honors. The watch list, top 20 nominations and finally the last four candidates were narrowed by votes from an electorate made up of head coaches from all FCAA FBS winners and finalists, as well as, sports journalists and members of the Football Writers Association of America.
Net proceeds from the Rotary Lombardi Award activities are contributed to cancer research and children who cannot afford treatment to fight the disease that claimed the life of Vince Lombardi. The Rotary Lombardi Award has been hosted by the Rotary Club of Houston since 1970 and benefits the American Cancer Society, MD Anderson Cancer Center and the Texas Children's Hospital.
Visit http://www.rotarylombardiaward.org for more information and continued updates. Tickets are available at https://www.eventbrite.com/e/rotary-lombardi-award-ceremony-tickets-29868788350 for $250 an individual. Sponsorships are also still available.
###