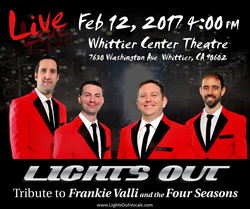 "Lights Out's Tribute to Frankie Valli is not just a show, but an experience" - Jerry Gross of The Dovells (Bristol Stomp)
WHITTIER, CA (PRWEB) January 03, 2017
"Lights Out" – The Nation's #1 Tribute to Frankie Valli and the Four Seasons, announces their West Coast tour which includes a stop at The Whittier Center Theater on February 12th, 2017. The group, which has been performing their Tribute to Frankie Valli for six years, has continued to make their mark around the country. Performing all of Valli's hits including, "Sherry", "Big Girls Don't Cry", "Who Loves You", "December 1963 (Oh What a Night)" and so many more, the group's spot on vocals, high-energy choreography, and comedic interludes keep audiences, singing, dancing, and laughing throughout the show.
"Lights Out's Tribute to Frankie Valli is not just a show, but an experience," says Jerry Gross, the group's manager and lead singer of The Dovells. "They're able to recreate the sounds of the Four Seasons, and their lead singer is so authentic to Frankie's distinct sound, that if you close your eyes you'd think it's a young Frankie Valli himself."
"Lights Out" is excited to bring their show to the Whittier Center Theater and looks forward to creating an experience for the audience on the West Coast.
Show information:
Date: February 12th, 2017
Time: 4:00pm
Location: Whittier Center Theater
7630 S. Washington Ave
Whittier, CA
Tickets can be purchased at: http://www.brownpapertickets.com/event/2716428
Or by phone at Brown Paper Tickets: 800-838-3006 or Lights Out Ticketing: 215-431-9890