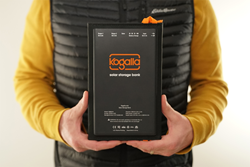 "While you need the Solar Storage Bank for your disaster supply kit, you'll want it for all your outdoor adventures." Kogalla CEO Rob Urry
Sandy, UTAH (PRWEB) December 16, 2016
Kogalla LLC, a manufacturer of world-class outdoor adventure products, has the spotlight shining on them again, this time thanks to its innovative portable solar panel array with integrated power storage. Kogalla announced its crowdfunding campaign launched this week and has already reached its goal.
Kogalla's game changing Solar Storage Bank is designed to provide continuous, renewable power for your mobile phone, lights and other USB devices.
"We tend not to think of our phone as a survival tool, but in the event of an emergency, it becomes our communication lifeline. In this situation, the last thing we need is our phone to die." stated Kogalla CEO Rob Urry.
With the frequency and intensity of disasters increasing at an alarming rate, the Kogalla SSB is a key component of any disaster supply kit.
"While you need the Solar Storage Bank for your disaster supply kit, you'll want it for all your outdoor adventures." continued Urry.
The SSB integrates an ultra-slim, 10,000 mAh storage bank with a rugged 22 watt, foldable solar array into a compact, lightweight, easy-to-carry unit. The kit also includes a USB light and cables in an attached zippered pouch.
The Kogalla Solar Storage Bank has several distinct advantages over the numerous solar panels and power banks on the market. Integrating the solar panel array with the storage bank makes the unit super-easy to set up. Just unfold and place it in the sun.
Kogalla also matches the solar panel array to the storage bank which maximizes energy harvest, and ensures uninterrupted operation. Even in low-sun conditions, the unit will harvest energy without fear of the charging connection shutting off. If the sun is blocked for a period, the SSB will automatically resume charging when the sun returns. You'll never return after a long day to find that a passing cloud terminated your charging cycle fifteen minutes after leaving camp.
In full sun, the 22 Watt solar panel array will charge the 10,000 mAh storage bank in three to four hours, capturing enough energy to charge a smart phone three to four times. The unit has enough power to charge two high-current devices simultaneously.
The Kogalla SSB starts at $139 on Indiegogo. For more information and to order yours in time for Christmas visit: http://www.indiegogo.com
About Kogalla LLC
Kogalla is a technology company innovating the way we use sustainable energy and efficient lighting in the great outdoors. The company specializes in products that enhance outdoor adventures and support emergency preparedness. It is a wholly owned subsidiary of Zyntony, Inc. For more information, visit http://www.kogalla.com.
Media Contact
Richard Burnett, VP Business Development
Kogalla LLC
(801)996-8669
dick(at)kogalla(dot)com
http://www.Kogalla.com