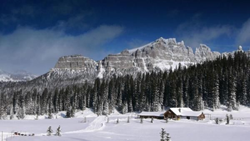 Snow lovers looking for the best way to escape this winter can turn to Brooks Lake Lodge & Spa for an unforgettable experience.
Dubois, Wyoming (PRWEB) December 15, 2016
Deep in the Shoshone National Forest nestled among the Rocky Mountain peaks at 9,200 feet above sea level lies Brooks Lake Lodge & Spa, a historic Wyoming all-inclusive guest ranch. At nearly 100 years old, the lodge – perched lakeside with spectacular views of the Pinnacle Buttes – has just released its Top 5 list for why it is the best snowy escape for winter enthusiasts. Located near Jackson Hole, Wyoming, and Yellowstone National Park, Brooks Lake Lodge offers guests a uniquely remote and luxurious backcountry winter retreat and begins its winter season Dec. 23, 2016. The backcountry Wyoming resort offers the following as reasons to visit and enjoy the snow:
1.) The commute: Welcome to the woods. Say goodbye to cars, horns, traffic and crowds the moment you arrive to Brooks Lake Lodge. Because of the deep snow and remote location for the resort, guests are greeted at the nearest road by a snowcoach vehicle that transports them along the forested five-mile stretch through the mountains and past Brooks Lake to arrive at the secluded lodge. For the even more adventurous, other modes of transportation for that final five miles include cross country skis, snowmobile or even dog sled. Talk about making an entrance!
2.) Snow much to do: Snowmobilers from beginners to experienced rough riders can explore the nearly two million acres of snowy terrain, cruising on mild backcountry trails or testing the limits on uphill climbs and carving through deep snow. This year the Lodge has added 10 new high-performance machines including the Polaris 600 RMK, Polaris 600 AXYS and Polaris 800 AXYS, as well as the Ski-Doo 850. But whatever a guest's wintery heart desires, Brooks Lake Lodge has the terrain and the gear for that. For cross country skiing, snowshoeing, ice fishing – even sledding – the property is their oyster and the lodge is ready to fulfill every desire for snowy outdoor fun (with activities and gear included in basic rates).
3.) Rugged outdoors, refined inside: Each unique suite and cabin at Brooks Lake Lodge offers a cozy retreat from exciting days spent out in the snow. With crisp linens and goose down comforters on comfy plush beds, a great night's sleep is expected. Each room is individually named and fittingly decorated featuring delightful and dramatic views. And with free WiFi available throughout the resort, guests can connect…if they really want to.
4.) Gourmet cuisine for refueling: Brooks Lake Lodge offers three full meals a day to guests, all included in each stay. A hearty breakfast, a la carte lunch and gourmet dinners consisting of premium seafood, beef, game, poultry and vegetarian entrees are served each day. Guests can also enjoy oh-so-civilized Governor's Tea Time, a long-held tradition providing a selection of fruits, cheeses, meats, cookies and crumpets served fireside in the Tea Room each day at 4:30 p.m.
5.) Full-service Spa for recharging: After a long day on the snow, guests can enjoy a variety of spa treatments such as deep tissue and hot stone massages, or nourish the skin with one of the spa's rejuvenating facials. The 3,000-square-foot Rocky Mountain Spa also boasts an enormous 11-by-17-foot hot tub overlooking the lake and the Pinnacle Buttes.
Snow lovers looking for the best way to escape this winter can turn to Brooks Lake Lodge & Spa for an unforgettable experience. One additional bonus: Guests enjoy a nearly 1:1 guest-to-staff ratio, which translates to personal, attentive, friendly service from arrival to departure, making sure each guest feels like a VIP.
About Brooks Lake Lodge & Spa
Brooks Lake Lodge & Spa, a 100-year-old historic guest ranch near Jackson Hole, Grand Teton National Park and Yellowstone National Park, is located one mile from the North American Continental Divide, with views of the Pinnacle Buttes, Austin's Peak and Brooks Mountain. Surrounded by evergreen forests, wildlife and Brooks Lake, the exclusive, all-inclusive Wyoming Rocky Mountain resort offers five-star service, luxury accommodations and gourmet dining. The new separate spa facility was built with Western Craftsman-style detailing to complement the historic lodge. A dude ranch by summer and ski and snowmobile haven in the winter, the lodge provides year-round activities for outdoor enthusiasts. All-inclusive rates include lodging, meals, activities and spa access. For additional information and reservations visit http://www.brookslake.com or call 866.213.4022.
Contact: Amy Stark, Word PR + Marketing, amy(at)wordprmarketing(dot)com