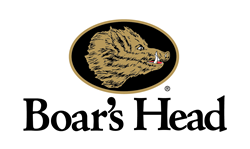 "During the busy Holiday season everyone is looking to deliver a memorable experience for family and friends. With Boar's Head's, you can easily entertain your guests with an elegant spread they are sure to remember for years to come."
SARASOTA, Fla. (PRWEB) December 15, 2016
Boar's Head Brand®, one of the nation's leading providers of premium delicatessen foods, makes Holiday entertaining easy with four effortless, yet elegant dishes that will keep the festivities going throughout the Holidays. This festive menu will appeal to all of your guests—thanks to a variety of high quality products from Boar's Head, including Non-GMO* Verified Hummus, Sweet Slice® Boneless Smoked Ham and Chicken Sausage.
With Boar's Head products anyone can be the hero this Holiday Season, by providing an effortless entertaining experience with delectable dishes that are sure bring your guests together.
"Boar's Head allows you to host an impressive, yet effortless Holiday gathering with the premium products we are known for," said Elizabeth Ward, Director of Communications for Boar's Head Brand. "During the busy Holiday season everyone is looking to deliver a memorable experience for family and friends. With Boar's Head's, you can easily entertain your guests with an elegant spread they are sure to remember for years to come."
Starting with a fresh Hummus Platter Appetizer, and followed by a Gourmet Antipasto Board featuring an assortment of premium cured meats and cheeses, these dishes offer a refined tone to any Holiday party. To enjoy at the table, we suggest a decadent pasta dish flavored by one of Boar's Head Brand's popular Chicken Sausage offerings, the Uncured Bacon Chicken Sausage Fettucine Carbonara. Finally, no Holiday menu is complete without the Sweet Slice® Ham with Brown Sugar & Spice Glaze. This elegant, yet effortless center-of-the-plate dish is the ham that perfects the Holiday table.
Below are the four simple yet sophisticated recipes:

This Holiday season, Boar's Head will ensure hosts provide a Holiday Menu that offers only the highest quality ingredients. With these festive, effortless recipes carefully selected to bring out the season's best flavors, your Holiday gathering will be one to be remembered.
Boar's Head products are available at select supermarkets, gourmet stores, and fine delicatessens nationwide. For more information about Boar's Head, please visit http://www.boarshead.com, like us on Facebook at http://www.facebook.com/boarshead and follow us on Twitter at @Boars_Head and Instagram at @boarsheadofficial.
*Pretzels in Boar's Head 3oz snack package may contain GMOs.
About Boar's Head
Founded in 1905, Boar's Head Brand has upheld a commitment to unwavering standards for quality for over a century, refusing to take shortcuts that compromise the integrity of its products for the sake of convenience or economy. What started with just a few products has grown to over 500, ranging from premium delicatessen meats, cheeses and condiments to an array of Italian and Old World specialties, hummus and foodservice items. All Boar's Head meats, cheeses, hummus and condiments contain no fillers, by-products, added MSG, artificial colors or flavors, gluten or trans-fat.