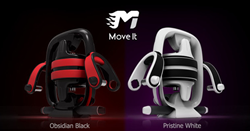 Move It meets the needs of today's men and women, who might forego working out because of hectic lifestyles, or those who prefer to do them on their own schedules
Las Vegas, NV (PRWEB) December 16, 2016
Move It is a new fitness system set to debut to the American market, international technology community, and media at the forthcoming Consumer Electronics Show (CES) 2017 January 5 -8, 2017 at the Eggplant Technologies booth 50515 Hall G of the Eureka Park section of the Sands Expo, Las Vegas, NV. The new modular and app-enabled fitness system provides a four-in-one personal gym equipment, enhanced by simultaneous workout tracking and several immersive features. Move It will be introduced at the event with on-site demos for attendees to try out the system.
Designed into an innovative, compact unit that is easy to disengage and reassemble, Move It showcases patent-pending Sensory Intelligent Handles that attach to an Ab Wheel, a Resistance Band, two Push-Up Grips, and a Jump Rope. Once attached to any of the unit's specific fitness gear, these technically advanced handles provide real-time synchronized movement tracking delivered wireless to the interactive app on the user's smartphone. Not only does the system tally the number of reps and calories burned, but it can also prompt proper form or appropriate difficulty levels, keep a running record of accomplishments and progress on the user's personal profile, and indicate each workout status via the handles' LED indicator lights. Additionally, Move It's iOS and Android compatible mobile platform allows users to access trainer-created programs for various fitness levels, participate in live workouts, connect and create lasting and motivational interactions with the brand's fitness community through buddy systems, one-on-one or team challenges. Move It joins the leading manufacturers, developers and suppliers of consumer technology hardware, content, technology and delivery systems from over 150 countries who gather to preview the latest advancements in electronics.
About MOVE IT
Founders Ivan Ho and Oscar Wong created Move It for people with hectic schedules to work out whenever they want from the comfort of their home or office. The compact modular unit of gym equipment combined with app technology provides not only the functional range of cardio and resistance training but also mobile features. The system's software platform delivers simultaneous and precise tracking of movement as well as calorie count and personal progress. Several other features such as multi-level workout programs, live fitness trainer conducted classes, engagement with other users, buddy system, personal and team challenges, all create the realistic environment of having a gym at home. Move It comes in three colors – Graphite Blue, Pristine White, and Obsidian Black –which includes the downloadable Move It App, and the four major equipment housed within the unit with a charging cable with additional performance skip rope, four resistance bands with tension levels from 5 to 25 lbs, and a knee mat retailing for $299 – available for purchase online.