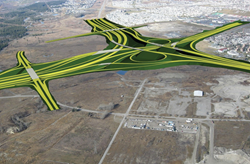 "The cold climate in Calgary can cause pavements to crack if not designed properly, which is why we spend a lot of time assessing the methods used and the ability of materials to withstand extreme temperature changes," said Dr. Robert Rasmuseen
Austin, Texas (PRWEB) December 15, 2016
Austin-based pavement engineering firm The Transtec Group delivered an expert review and lifecycle recommendations for the pursuit phase of the Southwest Calgary Ring Road public-private-partnership project (P3) in Calgary, Alberta.
The Calgary Ring Road Project consists of a full 101-kilometer circle around Calgary, which the Government of Alberta and the City of Calgary have been planning since the 1970s. The Southwest section of the project, which broke ground in the summer of 2016, is one of the last segments to complete the ring, and is expected to be open for traffic in 2021.
"The Southwest section of the Calgary Ring is a critical link to facilitate mobility within and around Calgary," said Dr. Robert Rasmussen, Vice President & Chief Engineer for The Transtec Group.
The Transtec Group provided a comprehensive analysis and independent opinion for pavement-related aspects of the project, with a heavy emphasis on construction methods and their impact on long-term pavement performance. As part of Transtec's unique and thorough assessment, a field review of existing pavements was performed as well as a study on the methods used to produce that pavement.
"The cold climate in Calgary can cause pavements to crack if not designed properly, which is why we spend a lot of time assessing the methods used and the ability of materials to withstand extreme temperature changes," said Dr. Rasmussen. "The value of our expertise lies in our independent evaluation, providing guidance for the developers to ensure a quality, long-lasting pavement."
The firm has previous expertise with a similar P3 project in Winnipeg, Manitoba, when it delivered a plan for pavement design and life cycle advisement for the Southwest Transitway project with the Plenary Group.
The Southwest Calgary Ring Road Project was awarded to Mountain View Partners, for whom KGL Constructors is performing the design and construction. KGL is a consortium made up of Kiewit Management Co., Graham Infrastructure and Ledcor Group of Companies. Mountain View Partners will also provide oversight during the Operations and Maintenance period, which has been subcontracted to Alberta Highway Services Ltd. (AHSL), a subsidiary of Colas Group.
###
About The Transtec Group
The Transtec Group is a pavement engineering firm that delivers exceptional engineering in pavement design, design/build, P3, construction, research, pavement surface testing, pavement software development, and technology implementation. Transtec engineers pavements that reduce cost, accelerate schedules, and protect clients from risk. The firm has completed over 700 projects worth more than $50 billion on five continents and is a minority-owned small business based in Austin, Texas.