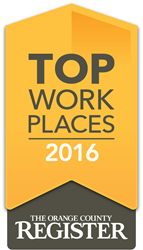 This award is a testament to the positive and entrepreneurial work environment our dedicated team members have created at Kapco Global.
Santa Ana, Calif. (PRWEB) December 15, 2016
Kirkhill Aircraft Parts Co. (DBA Kapco Global) is excited to announce its inclusion among award recipients for the 2016 Top Workplaces by The Orange County Register. This award, based solely on employee feedback, is a high honor and one the organization is thrilled to receive. "This award is especially meaningful because it was based upon our employee's feedback about what it's like to work for Kapco Global," said Rita Mould, Vice President Human Resources. "As an ESOP company, we realize that we wouldn't be the company we are without our employee-owners. This award is a testament to the positive and entrepreneurial work environment our dedicated team members have created at Kapco Global."
The employee feedback survey measures several aspects of the workplace. Aimed at uncovering accurate employee responses to an array of organization and company culture-related questions, this survey is used each year by The Orange County Register to identify businesses for that year's Top Workplace awards.
Doug Claffey, CEO of WorkplaceDynamics, the firm responsible for conducting the survey, explained the importance of positive survey results like these: "The Top Workplace award is not a popularity contest. To be a Top Workplace, organizations must meet our strict standards for organizational health." Claffey stressed that, without the sense of connection fostered through an excellent work environment, "an organization doesn't have a shot at being named a Top Workplace."
To read more about the award, view the full list here.
About Kapco Global: For over 40 years, Kapco Global has served the aerospace industry by providing outstanding quality, value and customer service in the form of aircraft parts and supplies distribution. As a 100% employee-owned company with 12 facilities located across the world, Kapco Global services many leading airlines and MRO companies with a promise to optimize efficiency, productivity and value, creating the optimal experience for the customers of Kapco Global.
About WorkplaceDynamics, LLC: Headquartered in Exton, Pa., WorkplaceDynamics specializes in employee feedback surveys and workplace improvement. This year alone, more than two million employees in over 6,000 organizations will participate in the Top Workplaces™ campaign—a program it conducts in partnership with more than 40 prestigious media partners across the United States. WorkplaceDynamics also provides consulting services to improve employee engagement and organizational health. WorkplaceDynamics is a founding B Corporation member, a coalition of organizations that are leading a global movement to redefine success in business by offering a positive vision of a better way to do business.