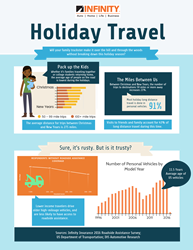 (PRWEB) December 15, 2016
New and original research conducted by Infinity Insurance reveals a strong link between household income and access to roadside assistance. In a survey of over 700 drivers, more than half of those who came from households making $50K per year or less reported driving without any form of roadside assistance. That figure increases to 64% for households making under $20K per year.
Infinity also examined its own data and found that many holiday travelers are driving older, high-mileage cars. The research group, IHS Automotive, recently calculated the average age of US cars on the road at 11.5 years. Infinity says the number is even higher (11.8 years) for drivers in under-served urban areas.
As might be expected, these older vehicles tend to have well over 100,000 miles on them. Age and high mileage significantly increase the risk of being stranded on the side of the road with a breakdown or equipment failure.
Breakdowns are a particular concern during the holidays. According to the U.S. Department of Transportation Bureau of Transportation Statistics, about 91% of long distance holiday travel (50 miles or more one-way) is undertaken in personal vehicles. With so many families traveling with children and university students returning home, the average age of travelers is lower during the holidays than at any other time of year.
Glen Godwin, Senior Vice President of Infinity, responded to the survey: "Statistics like these prompted Infinity to develop our Free DriverClub® Membership over five years ago. We've taken the position that no traveler should ever be stranded on the side of the road without anyone to call, especially this time of year."
The Infinity DriverClub® Membership is free nationwide. You do not need to be an Infinity Insurance customer to enroll, and service is available in English and Spanish.
About Infinity Insurance: Infinity Property and Casualty Corporation is a national provider of personal automobile insurance with a concentration on nonstandard auto insurance. Its products are offered through a network of approximately 11,200 independent agencies and brokers. For more information about Infinity Insurance, please visit InfinityAuto.com.
About the Infinity DriverClub® Membership: The Infinity DriverClub® Roadside Assistance Program provides free memberships to all subscribers. The free membership gives drivers access to towing services and car locksmiths in addition to assistance with things like gas delivery, dead batteries, and flat tires. For more information on the DriverClub® Membership from Infinity Insurance, visit InfinityAuto.com/infinity-driverclub.
Media Contact:
Jon David Conolley
jonathan(dot)conolley(at)ipacc.com
(205) 803-8772