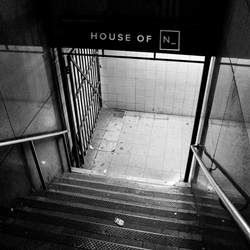 House of N_ is an opportunity to share our access, inventions and creations from our work with clients and cultural arbiters
New York, NY (PRWEB) December 15, 2016
Narrative_, the New York-based ad agency noted for its story-driven tech and digital campaigns for clients like Under Armour, Soundwall, Santo Mezquila and JC Penney, launches House of Narrative_, a curated concept shop that champions artistic expression and bringing stories to life. The products result from the ongoing collaboration among the Narrative_ collective, including elements of design, art, tech, culture and lifestyle.
"House of N_ is an opportunity to share our access, inventions and creations from our work with clients and cultural arbiters, and to test new product concepts and ideas, while engaging with the community," said Tricia Clarke-Stone, CEO and co-founder, Narrative_. "It's a consumer-facing extension of our in-house Innovation Lab – prototyping is part of our DNA and this shop gives us a platform to conduct real world beta testing."
The shop features items such as the coveted "N_" cap by Under Armour, custom classic viewers featuring images from luminaries like hip hop photographer Jonathan Mannion, and a line of enamel lapel pins bearing some of Tricia's signature sayings.
In addition to the not-available-anywhere-else items, House of N_ is intended to be a showcase for the agency's tech innovations, such as Iris, their "Holler At" app built for Amazon Echo that will automatically send an email to anyone in your contacts list upon command. Up-and-coming musical artists, like Narrative_'s own Swang (aka Luz Wang) will be featured – "Harry Winston," the first single from his new EP, "Made in China" is available for free download.
House of Narrative_ will also feature select items that will be auctioned off for charity. The first auction items will be a limited-edition collection of skateboard decks, signed by Russell Simmons, celebrating cultural mashups in music, art and fashion – the Art on Deck collection. All proceeds will be donated to the Rush Philanthropic Arts Foundation.
Narrative_ founders Russell Simmons and CEO Tricia Clarke-Stone have long been considered style arbiters, and House of Narrative_ is created to showcase the contemporary artists, cultural influencers, innovators and tastemakers that comprise the Narrative_ collective.
Photographer Jonathan Mannion stated, "When I think about the artists who have shaped the culture most richly and have stood the test of time, I always come back to these seven artists: Jay Z, Biggie, Nas, Lauryn Hill, Outkast, Drake & Kanye. It has been an honor to work with each of them on multiple occasions. They have authentically and unapologetically delivered their unique message to the world. It's an honor to bring you these images in a manner that pays homage to them and to an item that I remember from my childhood, that classic red image viewer. The dialogue between generations that can be sparked from this one item is an exciting component of this Jonathan Mannion x Narrative collaboration." 
"We have built a different kind of agency, one that champions art, technology and popular culture to build living, breathing brand stories," says Russell Simmons, co-founder, Narrative_. "With House of Narrative_, we're inviting everyone to be part of the collaboration we've created, and hopefully elevate their gift game a notch or two while we're at it."
Shop now at House of Narrative_ : http://www.houseofnarrative.is