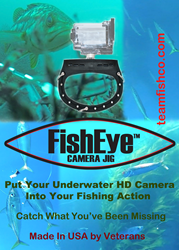 You won't believe what's down there! You can actually see the fish take your bait! Jack Becht - Team Fish
(PRWEB) December 16, 2016
Team Fish, Inc. makers of the CastMate™ Systems line of tackle management for float tubes and kayaks has added the FishEye™ Camera Jig to its stable of innovative fishing tackle management products.
The FishEye™ Camera Jig is designed to get the user's HD underwater camera into the fishing action by attaching directly to the fishing line. A standard 1⁄4 x 20 stainless steel tripod style adapter fixes the user's camera to the nylon base. Marine grade hardware allows for camera angle flexibility and the addition of leader material, hooks, weights and floats as needed for optimal camera positioning. A detachable line release is included to allow the camera body to be used similar to a down-rigger for light tackle applications.
Suitable for all types of fishing, the FishEye™ Camera Jig can get any underwater HD camera inline with live bait, bottom rigs or trolling. The unique multi-point design keeps the camera pointed at the hook while fishing or trolling. With a rod and reel, the user's camera can be used for a hull inspection, to view bottom structure or record a fouled anchor.
This American made product allows the use of existing underwater digital cameras and to do away with the need for purchasing any new digital cameras. Now adding your GoPro® or Sony Action Cam® to film your fishing action is as easy as changing a lure.
The success of the existing CastMate™ Systems Video Camera Mount for float tubes and kayaks with its ability to rotate underwater led to this new product. According to Jack Becht, Vice President and General Manager of Team Fish, Inc., this device is a game changer for those who enjoy adding video to their fishing experience, "You used to have to buy a separate camera. Now you can use your own."
The new FishEye™ Camera Jig becomes another innovation added to the CastMate™ 2.0 and YakMate™ V.2.0 systems that will turn any kayak or float tube into a fully-customized fishing machine.
The CastMate™ 2.0 and YakMate™ V.2.0 attachments include:
Fishing Rod Holders - Hi and Low mount
Net Holder - to safely catch and release
Combo Cup Holder - for beverages and also can hold some fish finder sonars
Video Camera Mount - to capture above and below the waterline action with any waterproof camera
Tackle Table - to hold a tackle box or to cut bait.
All CastMate™ and YakMate™ products are made with lightweight marine grade aluminum and nylon and manufactured in the United States.
All CastMate™ and YakMate™ products are available on our website at http://www.teamfishco.com and on Amazon.
Team Fish, Inc. is a small, veteran-owned design and manufacturing firm based in San Diego, California, with owners who are avid anglers and sportsmen. All Team Fish products are made in the USA and assembled in San Diego, California.
Visit our website at http://www.teamfishco.com to see all of our products.
Find us on Facebook at Team Fish.