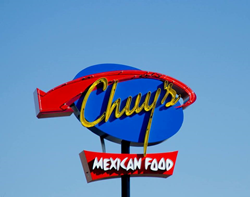 West Chester is such a great community, and we can't wait for the chance to make more Chuy's fans here in Cincinnati
West Chester, Ohio (PRWEB) December 20, 2016
Chuy's is bringing authentic Tex-Mex cuisine to West Chester this April. The Austin, Texas-based restaurant will be opening a new location at 9598 Civic Center Boulevard in the Streets of West Chester shopping center.
Chuy's has built a reputation for flavorful Tex-Mex dishes served up in a fun and eclectic atmosphere. The West Chester restaurant will be the third location in the Cincinnati-Northern Kentucky region and the fifth to open in Ohio. Ohio's first Chuy's opened in Madeira in August of 2013, followed by locations in Dayton, Beavercreek, and Columbus.
"Ohio has welcomed Chuy's with open arms," said Doug Scherbauer, of the new West Chester location. "People here really appreciate fresh, flavorful food and love our authentic Tex-Mex recipes. West Chester is such a great community, and we can't wait for the chance to make more Chuy's fans here in Cincinnati."
For more than 34 years, Chuy's has specialized in made-from-scratch Tex-Mex using only the freshest ingredients. The menu includes dishes made from hand-rolled tortillas, cooked on a traditional comal in the dining room, and homemade signature sauces ranging from mild Tomatillo to their spicy Hatch Green Chile.
The West Chester store will be located at The Streets of West Chester, a vibrant outdoor shopping center located at the Union Center interchange on Interstate 75. The restaurant's fun, inviting atmosphere will incorporate design elements unique to Chuy's including an Elvis Shrine, the La Chihuahua Bar, featuring framed pictures of local dogs, a "school" of hand-carved wooden fish, and a hubcap-covered ceiling.
Chuy's will be open seven days a week for lunch and dinner: from 11 a.m. to 10 p.m. Sunday through Thursday, and 11 a.m. to 11 p.m. Friday and Saturday.
For updates and giveaways, visit the Chuy's West Chester Facebook page http://Facebook.com/ChuysWestChester.