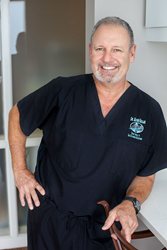 Charleston, SC (PRWEB) December 14, 2016
Dr. Kevin Hogan, a general dentist in Mt. Pleasant, SC, is now expanding his service reach to include new patients who are in need of dental implants in Charleston, SC. Patients can now turn to him for experienced dental implant treatment with or without a referral. With the use of the new Vatech PaX-i3D Green Cone Bean CT scanner, Dr. Hogan can perform guided implant surgery with a level of precision previously unfound in the industry.
When patients lose their teeth, it can cause many different complications. The teeth begin to shift, bites change and other teeth have a greater chance of becoming loose and falling out. When patients choose to replace their missing teeth with dental implants in Charleston, SC, they can help prevent further problems with their bite, keep unseemly gaps from forming in their teeth and retain many of the daily joys of life that can be lost with one or more missing teeth. Patients can also be happy with the way they look when their implants are placed by a skilled dentist and the implant is undetectable to the naked eye.
In addition to aesthetic benefits, there are great health benefits to choosing dental implants in Charleston, SC. When the body detects that there is no longer a tooth to be supported, the area of the jaw bone that would normally be responsible for that tooth may begin to weaken and reabsorption of essential minerals may occur. When severe, this bone loss can lead to deformation of the jaw and face. However, when patients receive dental implants, they can stimulate the jaw so that future loss does not occur.
Those who would like to learn more about dental implants are invited to contact Dr. Hogan, a dentist dedicated to leading care to his patients. Call his office at 843-639-5921 to schedule an appointment.
About the Doctor
Dr. Kevin Hogan is a general dentist providing individualized care for patients in Mt. Pleasant, SC. Dr. Hogan is a graduate of the Indiana University School of Dentistry and has completed hundreds of hours of continuing education courses to stay contemporary with the latest dental technologies. In addition, he has also completed coursework with the Dental Organization for Conscious Sedation and has lectured at the University of North Carolina, Emory University, the Saginaw Valley University and AUA-American University of Antigua on head and neck anatomy and oral pathology. Dr. Hogan is a member of the American Dental Association, International College of Cranio-Mandibular Orthopedics, Academy of Laser Dentistry, International Association of Physiologic Aesthetics, Institute for Advanced Laser Dentistry, DOCS (the Dental Organization for Conscious Sedation), International Congress of Oral Implantologists and the South Carolina Dental Association. He is also a past member of the American Straight Wire Orthodontic Association, Maxillofacial Orthopedic Growth and Development, the American Academy of Pediatric Dentistry and the Functional Orthodontic Society. He and his team are dedicated to providing exceptional oral care to patients through personalized treatment plans. To learn more about the services offered by Dr. Hogan, please visit his website at http://www.smilesbyhogan.com or call (843) 639-5921.