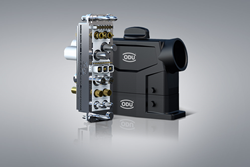 Camarillo, CA (PRWEB) December 15, 2016
ODU, a worldwide leader in designing and manufacturing high performance connectors, is now promoting to the US market its advanced ODU-MAC Blue-Line®, a hybrid manual mating modular connector solution designed for a wide range of test and measurement, medical and mechanical engineering applications.
ODU-MAC® Blue-Line is the only hybrid modular connector solution with standard plastic housing and spindle locking mechanism available on the market. Easy to handle, efficient and flexible, ODU MAC® Blue-Line offers high packing density with 2.4 mm/unit, 10,000 mating cycles, modules for signals, power, high current, coax, compressed air, data and fiber-optics, PCB termination option. Additional product features include: various locking mechanism ( spindle and lever), 4 docking frames, tool free clip mounting and dismounting of modules, up to 2,500 V, 12 Bar, 1Gbit/s and 4 GHz.
ODU-USA provides also advanced cable assembly integrated solutions.
For additional product information go to: http://www.odu-usa.com/products-solutions/odu-mac-modular-connectors/odu-macr-blue-line.html
ODU Group: global representation with perfect connections
The ODU Group is one of the world's leading suppliers of connector systems, employing 1,650 people around the world. In addition to its company headquarters in Mühldorf am Inn (Germany), ODU also has an international production and distribution network throughout Europe, North America and Asia. ODU combines all relevant areas of expertise and key technologies including design and development, machine tooling and special machine construction, injection, stamping, turning, surface technology, assembly and cable assembly. The ODU Group sells its products globally through its eight subsidiaries in Denmark, England, France, Italy, Sweden, the US, China and Japan, as well as through numerous international sales partners. ODU connectors ensure a reliable transmission of power, signals, data and media for a variety of demanding applications including medical technology, military and security, eMobility, energy, industrial electronics, and measurement and testing.
For press inquiries, please contact:
Dana Stoica, Head of Marketing North America
Phone +1 (805) 484-0540 Fax: +1 (805) 484-7458
Email: dana.stoica(at)odu-usa(dot)com