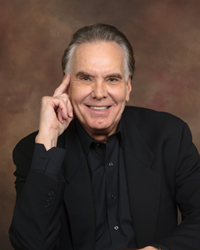 Boston, MA (PRWEB) December 15, 2016
Ugly Christmas sweaters be darned; this holiday season, follow James Mapes' lead and give an invaluable gift. Starting today, the renowned speaker, life coach and hypnotherapist will travel through New England to help residents cope with some of life's greatest stressors – wellness, love, forgiveness, healing and more. He will also offer deeply discounted digital copies of his new book, Imagine That!: Igniting Your Brain for Creativity and Peak Performance, a guide to leading "an exceptional life." Imagine That! is available for just $0.99 on Amazon.com until Dec. 31.
James Mapes' "Gift of Imagination" tour will take him around cities in Massachusetts and Connecticut to distribute wisdom and advice that can help anyone enhance life mentally, physically, spiritually, emotionally and socially. Imagine That! is a provocative guide that condenses his 30 years of experience as an international speaker and consultant, personal and executive coach, researcher and hypnotherapist into 11 steps.
"The Gift of Imagination" Tour will make the following stops:

Dec. 15 at 7 p.m. – Reducing Holiday Stress, Santi Holistic Healing, The Red Lion Resort; 71 S Main St, Cohasset, MA
Dec. 20 at 7 p.m. Igniting Your Brain for Creativity at The Unity Center of Norwalk; 3 Main St., Norwalk, CT
Dec. 20 at 11:30m a.m. Mindful Healing at the Bethel Chamber of Commerce; 184 Greenwood Ave., Bethel, CT
Jan. 22 at 2 p.m. Reassessing New Year's Resolutions at R.J. Julia Booksellers; 768 Boston Post Road, Madison, CT
Review copies of the Imagine That! and interviews with James Mapes are available upon request. The book engages readers in an enhanced format and includes practical exercises, in-depth research, real-life anecdotes and 21 video links with live tactical demonstrations of Mapes' methods. The book dives deep into topics as diverse as reframing thinking patterns, shattering self-limiting myths, hypnosis, stretch goals, and transforming fear into love and forgiveness.
ABOUT JAMES MAPES:
Bestselling author, international speaker, Hollywood actor, and renowned hypnotherapist, James Mapes released Imagine That! in October. The evidence supporting Mapes' methods is in his presence: In 2009, he used his own "quantum leap" thinking model to survive a near-fatal heart condition and defy a prognosis of two weeks left to live. Over his own exceptional lifetime, he has appeared in ten major feature films and written three books while helping individuals and organizations including celebrities and Fortune 500 companies achieve breakthroughs. Mapes is the founder of Quantum Leap Thinking™, creator of The Transformational Coach™, and an expert on the psychology of "applied imagination." For more information, please visit http://www.jamesmapes.com, or follow his Huffington Post blog.