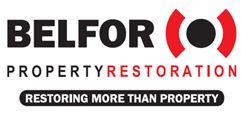 Corpus Christi, Texas (PRWEB) December 15, 2016
BELFOR Property Restoration (BELFOR), the global leader in damage restoration and recovery services today announced the opening of a new Texas office at 134 Heinsohn Road, Unit A in Corpus Christi, TX 78407. BELFOR continues to expand its footprint in Texas, with BELFOR Corpus Christi marking the company's eighth location in the state. Last month, BELFOR also opened an office in San Antonio through its acquisition of First Call Restoration.
Opening the new Corpus Christi office comes in response to the growing local demand for residential and commercial disaster recovery caused by fire, water, wind and other catastrophes. Led by General Manager Tim Williamson, the new office will provide services to the Corpus Christi community, including Aransas Pass, Gregory, and Portland, as well as enable the utilization of resources from nearby BELFOR offices in the event of a large weather or regional catastrophe.
"When Corpus Christi experienced the heavy flooding in May of this year, it became clear that the city and surrounding areas were in need of a reliable, reputable restoration company," said Tim Williamson. "By opening this additional office, we are filling that gap and providing BELFOR's superior resources and unmatched services to the members of our community."
BELFOR Texas also has offices in Austin, Belton, Dallas, Fort Worth, Houston, San Antonio and Waco. From seasonal perils such as foundation separation caused by extreme heat to volatile weather patterns bringing unexpected tornadoes or hail storms, BELFOR will respond 24/7 to provide single-source restoration services.
BELFOR's Texas offices have received local and national community and industry awards including Qualified Remodeler Magazine's "Top 500 Award" and the Restoration Industry Association's "Phoenix Award."
For more information or to contact the BELFOR Property Restoration Corpus Christi office, please call 361-504-0845.
ABOUT BELFOR PROPERTY RESTORATION
BELFOR Property Restoration is the worldwide premier disaster restoration company serving 29 countries with more than 300 offices employing more than 7,000 full-time experienced restoration specialists. BELFOR Property Restoration provides residential, commercial and industrial customers every service needed to help return to normal operations. From structural damage repair and clean-up to the recovery and restoration of equipment and vital documents, BELFOR Property Restoration has a rapid and proven response. For more information, please visit http://www.BELFOR.com. For immediate assistance, please call BELFOR Property Restoration's 24/7 Emergency Hotline: 800-800-BELFOR. "Like" BELFOR on Facebook and "Follow" @BELFOR on Twitter.