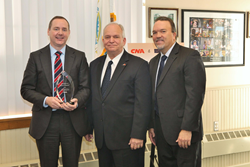 Paul Whitcomb, CEO of Whitsons Culinary Group, said "We are delighted to be recognized for our efforts in safety and are very proud of this accomplishment."
Islandia, New York (PRWEB) December 15, 2016
Whitsons Culinary Group, a leader of dining management services and prepared meals provider was awarded the Risk Control Leadership in Safety Award by CNA, the eighth largest U.S. commercial property and casualty company, for its efforts in the safety of operations and risk management as well as their commitment to the Village of Islandia by Mayor Allan Dorman. Whitsons employs close to 2,000 people in New York State alone and has a growing culinary production facility in Islandia, New York. The award ceremony which took place at the Islandia Village Hall, was yet another milestone for Whitsons.
Paul Whitcomb, CEO of Whitsons Culinary Group, said, "We are delighted to be recognized for our efforts in safety and are very proud of this accomplishment. Being recognized for our commitment to enhancing our business through improving the quality and safety is one of the biggest compliments a company can receive and further demonstrates our commitment to our employees and our customers."
"CNA is pleased to provide Whitsons with our Leadership In Risk Control Award for their exemplary and proactive approach to safety in the workplace," said Bob Schmid, Vice President, CNA Long Island Branch. "CNA presents the Leadership In Risk Control award to businesses that have demonstrated a significant commitment to protecting their people and assets through proactive risk management strategies. We commend Whitsons for taking a proactive approach to creating a safe work environment and a dedication to product safety by educating themselves about common risks in their industry, identifying problem areas and implementing the necessary steps to help prevent an accident or business disruption from occurring."
About Whitsons Culinary Group: Whitsons' scope of expertise and services extends to: prepared meals, residential and healthcare dining, school dining services, and emergency dining, providing a wide range of highly customized dining services to public schools, corporations and institutions, with a strong focus on nutritious, high quality menus made from fresh, wholesome ingredients. Whitsons has a long and proud history of excellence and growth since 1979 when Elmer Whitcomb along with his wife Gina, set out to start a family business they could leave as a legacy to their nine children. Tastefully Plated meals were inspired by great meals enjoyed together around the family dining room table. Today Tastefully Plated selections are a deliciously different way to enjoy the convenience of a prepared meal, without sacrificing quality and taste. Whitsons Culinary Group leads the industry with its customized services, innovative programs, commitment to quality, focus on nutrition, local food sourcing, and community support. Visit: http://www.whitsons.com or http://www.tastefullyplated.com to learn more.
About CNA: Serving businesses and professionals since 1897, CNA is the country's eighth largest commercial insurance writer and the 14th largest property and casualty company. CNA's insurance products include commercial lines, specialty lines, surety, marine, and other property and casualty coverages. CNA's services include risk management, information services, underwriting, risk control and claims administration. For more information, please visit CNA at http://www.cna.com. "CNA" is a service mark registered by CNA Financial Corporation with the United States Patent and Trademark Office. Certain CNA Financial Corporation subsidiaries use the "CNA" service mark in connection with insurance underwriting and claims activities.
About Edwards: Established in 1865, Edwards and Company is a one of Long Island's largest privately held property and casualty insurance brokerage's. Over the past 150 years, Long Island has evolved into a more dynamic area and the insurance demands increased with it. Edwards and Company has become one of the preeminent insurance brokers, with clients that include a host of Long Island business and public entities. With focuses on the food & beverage industries, municipalities and government agencies, the aerospace industry, construction and real estate. As a firm, Edwards and Company is committed to excellence and continuous improvement in its business processes. This combination of technical advancement, organizational intelligence and personal commitment enables Edwards and Company to provide new solutions to its clients' insurance needs quickly, in an increasingly fast paced and complex business environment. Edwards and Company has received numerous industry awards for its performance and professionalism including the L I A's Entrepreneurial Spirit Award given to the top 50 private firms on Long Island. Visit http://www.edwardsandco.net to learn more.