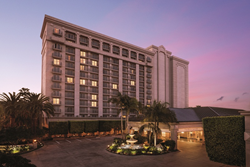 Marina del Rey, CA (PRWEB) December 15, 2016
Just in time for the holiday season, The Ritz-Carlton, Marina del Rey has added a new member to its kitchen. A native of Tokyo, Mie Chisaki has worked in the hotel industry for over 12 years. Most recently, she oversaw seasonal events and wedding cake creation at The Ritz-Carlton, Bal Harbour, Miami.
Chisaki has spent a majority of her career on the East Coast, working in numerous Florida hotels and resorts such as: The Ritz-Carlton, South Beach from 2013 to 2014 and the Four Seasons Resort Palm Beach from 2003 to 2013.
"Mie will bring to our kitchen a diversity of international flavors," says Executive Chef, Umit Kaygusuz, adding: "We are excited to showcase her creativity."
With a culture-rich resume, Chisaki began her educational journey in Japan at the Akenohoshi Women's Junior College in Saitama, Japan, earning a degree in English. It wasn't until 16 years later did she begin to pursue a culinary career at the Ecole Ritz Escoffier at the Ritz Paris. Later, she went on to study at the Pacific Institute of Culinary Arts in Vancouver, Canada and earned a certificate of wedding cake arts at the Notter School of Pastry Arts in Orlando, Florida.
Some of Chisaki's accomplishments include: supplying desserts for the Embassy of Portugal Tokyo Reception and creating traditional Danish cakes for a wedding reception in Denmark, as well as crafting a menu that consisted of Italian, French and Portuguese dishes for a reception in Japan.
Fluent in Japanese, Chisaki also speaks English, Portuguese, French and Danish.
###
About The Ritz-Carlton, Marina del Rey
Minutes from LAX, Venice Beach, Playa Vista and Santa Monica, The Ritz-Carlton, Marina del Rey offers a peaceful retreat that draws on the soothing elements of the surrounding ocean. Guests can admire the exceptional scenery from each of the recently renovated 304 guest rooms and suites, featuring private balconies; the farm-to-table restaurant, highlighting locally sourced ingredients; LA's only waterfront pool or the luxury spa. The Ritz-Carlton, Marina del Rey offers a desirable venue for weddings and events, with more than 30,000 square feet of indoor and outdoor function space. Whether visitors are seeking a few days of self-reflection, a relaxing beach weekend, an unforgettable wedding venue or a quintessential California dining experience, The Ritz-Carlton, Marina del Rey offers the perfect destination.
###
About The Ritz-Carlton Hotel Company, LLC
About The Ritz-Carlton Hotel Company, LLC The Ritz-Carlton Hotel Company, L.L.C., of Chevy Chase, MD., currently operates more than 90 hotels in over 30 countries and territories. More than 40 hotel and residential projects are under development around the globe. The Ritz-Carlton is proud to offer The Ritz-Carlton Rewards® in which members can link accounts with Marriott Rewards® and Starwood Preferred Guest® for instant elite status matching and unlimited points transfer. For more information or reservations, visit the company web site at http://www.ritzcarlton.com, for the latest company updates, visit news.ritzcarlton.com and to join the live conversation, use #RCMemories. The Ritz-Carlton Hotel Company, L.L.C. is a wholly-owned subsidiary of Marriott International, Inc. (NASDAQ:MAR).