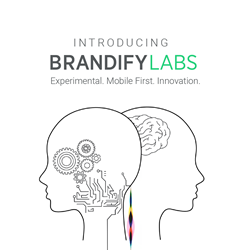 We are excited to announce several of our customers have adopted AI and cognitive technologies to create a paradigm shift in how brands connect with consumers.
Anaheim, CA (PRWEB) December 15, 2016
Brandify, the industry-leading provider of location-based digital marketing solutions, today announced the launch of Brandify Labs ("Labs") - an experimental, mobile-first, incubation environment, focused on Local innovation. The launch was facilitated by Brandify's recent acquisition of Cognitive and mobile technology from Irvine-based mobile development company, Smilefish. Labs focuses on creating remarkable experiences for consumers along the path to purchase from online to multi-location retailers, restaurants, dealerships, banks, and other places of business.
Brandify Labs focuses on research, innovation and development of marketing technology— building cognitive solutions, enhancing mobile interactions and driving sales. The Labs team is taking Brandify beyond traditional aspects of local marketing. Working closely with brands, the Labs team reimagines how brands and consumers connect locally.
"Cognitive & mobile technology will be the foundation on which we're building software assets to accelerate solutions for local marketers," said Andy Roy, VP of Strategy at Brandify. "Cognitive, mobile, geocoded location data -- the pieces are there, so we are combining them together using the latest tools. National brands already rely on us to publish store hours and driving directions so it's natural to extend that consumer connection using product recommendations or relevant offers in the moment."
To achieve a new level of innovation, Brandify Labs has integrated cognitive technologies like Amazon Alexa, IBM Watson and Microsoft's Azure Bot Services into the company's platform.
Reputation management continues to be a top priority for multi-location brands. Local businesses receive thousands of customer ratings and reviews a day, and must respond not only to specific complaints but evaluate if a location is performing badly with regard to customer service, product quality or the overall experience. For one restaurant chain, the Labs team analyzed 80,000 reviews to not only identify areas for improvement but also analyze sentiment in the reviews.
"We are excited to announce several of our customers have adopted AI and cognitive technologies to create a paradigm shift in how brands connect with consumers. Using machine learning, brands gain deeper insights about their customers and provide more authentic and tailored experiences for their buyers," said Brandify CEO, Manish Patel. "Multi-location brands are always looking for ways to engage versus interrupt or annoy. We can now imagine a world where products engage in a conversation with consumers during their shopping experience. We are harnessing sentiment analysis, chatbots, and voice search to have a dialog with the Internet of Things (IoT)."
Brandify Labs calls upon enterprises who want to create remarkable experiences for their consumers locally to join as a brand innovator. Learn more about Brandify Labs and how to become a brand innovator, please visit http://brandifylabs.com/.
About Brandify
Brandify is the single answer to Local, connecting global brands with consumers in the moment by leveraging the most comprehensive location technology solutions in the market. Brandify has simply connected over 500 global brands in over 4.5 million locations, including healthcare, finance, and retail, to consumers worldwide since 1997. The company provides the multi-location digital marketing technology, services and intelligence needed to understand consumer intent. Marketers can simplify local decisions with actionable recommendations, using its' field-tested bench marking metric, Brandscore.
To learn more about Brandify, please visit http://www.brandify.com/ and follow us on Twitter at https://twitter.com/GoBrandify.
Media Contacts:
Amber Kazalbash, Brandify, +1 714.312.3637, akazalbash(at)brandify(dot)com
Melissa Hourigan, ANW Networks, +1 720.988.3856, melissa(at)anwnetworks(dot)com