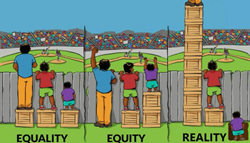 Of all the forms of injustices, educational, gender and health inequities are the most damaging to our health, well-being and our evolving human consciousness.
(PRWEB) December 15, 2016
President Trump plans to repeal ObamaCare and remove individual mandates for health insurance. Dr. Tom Price (the new DHSS head) wants everyone to have access to affordable, high-quality and innovative healthcare with free choice.
What's missing? What about equal access to healthcare and equitable outcomes, whether people are rich or poor.
Dr. Botelho advocates for this pledge.
"We, the People, pledge our government to use justice, equality and liberty to:

Optimize person-centered and family-centered healthcare and
Pursue gender and health equity for the greater good of all"
This pledge will create fair opportunities for everyone to achieve their highest level of health and well-being.
We, the people, must speak out about fixing healthcare. To build story movements, we must share our personal stories (and the sad stories about our loved ones) using social media blogs, television and newspapers.
Story movements activate democratic participation in healthcare reform and create network power to redesign healthcare for our needs.
According to Dr. Botelho, "Our stories will heal the great political divides and navigate a middle way toward fair healthcare.
Join the "Million Online March" campaign by using Facebook, Twitter Tumblr. Deadline Dec 31st. (greater than 180,000 to date)
Invite people, organizations and media outlets with large social reach to sign up to the campaign.