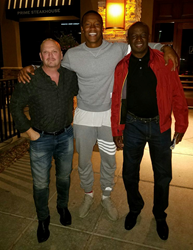 Denver, CO (PRWEB) December 14, 2016
NFL Player Health Screening Event Raises Awareness
Thirty out of 34 NFL players tested positive for sleep apnea during a recent health-screening event hosted by The Pro Player Health Alliance (PPHA) and the Living Heart Foundation. The Denver-based event, held in mid November, was designed to address all facets of player health (not just sleep apnea).
Held at the Centura Health facility, retired NFL players were evaluated for cardiovascular health, orthopedic concerns, and neurological problems before making their way to a sleep evaluation station headed up by Steven Wilk, DDS, owner of the Denver Sleep Apnea Center.
The 60-year-old Wilk, who has been treating sleep apnea for the past dozen years, says he was not surprised by the high prevalence of sleep apnea. "Back in the day, these players were really beat up," said Wilk. "These are really big men, and while we here about concussions now, they have a lot of other health issues. This ended up being an excellent program for these players."
"In Denver, we saw a lot of former players, including Jake 'The Snake' Plummer [Arizona Cardinals and Denver Broncos] and Karl Mecklenburg [six-time pro bowler with the Denver Broncos]," said David Gergen, CEO of the American Sleep and Breathing Academy, Phoenix, Arizona, and president of the PPHA. "We brought in home sleep testing equipment and gave it to the players. The results are, in and we are already getting oral appliances fabricated. ESPN and NBC were there to cover the event, and it is working well, while also getting better each and every time."
The Living Heart Foundation, Little Silver, NJ, was founded by Archie Roberts, MD, and is funded in part by the National Football League Players Association (NFLPA) to help all facets of player health. The PPHA focuses on the sleep apnea category, using the star power of current and retired athletes to boost awareness about sleep apnea and oral appliance treatments for OSA.
On Jan 3, 2017, yet another sleep apnea public awareness event will take place at ViewHouse Eatery, Bar & Rooftop located South of Denver in Centennial. ViewHouse is Colorado's football headquarters, boasting a 200" LED screen & dozens of TVs in their 20,000 sq. ft. venue with stunning rooftop views. "We expect to have Demaryius Thomas, Roy Green, Chuck Foreman, Eric Dickerson, Carl Eller, Derek Kennard, Karl Mecklenburg, Jake Plummer and Earl Campbell all in attendance," says Gergen. "We will invite the community to come and be a part of it. The other purpose of this event is to benefit Denver Fire Department. We will donate a free sleep apnea treatment to one of the firefighters who will be in attendance as well as hold auctions and raffles to raise funds for charity."
Visit http://broncos_superbowl.eventbrite.com for registration and more information about the upcoming event.
Roy Green
St. Louis and Arizona Cardinals Hall of Fame Wide Receiver, 2X Pro Bowler
Eric Dickerson
Los Angeles Rams Running Back, 6X Pro Bowler, NFL 80's All Decade Team, NFL Record Most Rushing Yards In A Season (2,105)
Earl Campbell
Houston Oilers Running Back, 5X Pro Bowler, 3X MVP
Derek Kennard
Dallas Cowboys Center, Super Bowl Champion
Carl Eller
Minnesota Vikings Defensive Lineman, NFL Champion, 6X Pro Bowler, NFL 70's All Decade Team, Member of the Purple People Eaters
Demaryius Thomas
Denver Broncos Wide Receiver, 3X Pro Bowler, Super Bowl Champion
Chuck Foreman
Minnesota Vikings Running Back, NFL MVP, 5X Pro Bowler, College Football Hall of Fame
Karl Mecklenburg
Denver Broncos Ring of Fame Linebacker, 6X Pro Bowler, Colorado Sports Hall of Fame
Jake Plummer
Denver Broncos Quarterback, 1X Pro Bowler