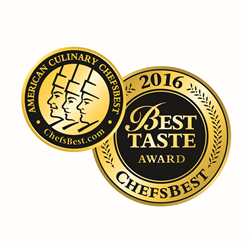 San Francisco, CA (PRWEB) December 15, 2016
ChefsBest is pleased to announce the winners of the Best Taste and Excellence Awards from the independent taste evaluations of several condiment categories. The independent organization proactively evaluates nationally branded products based on industry trends and increased consumer interest in taste quality.
Each product was rigorously evaluated by a panel of Certified Master Tasters®, executive-level chefs that have been extensively trained in Sensory Attribute Quality Analysis™, at the Center for Taste in the San Francisco Bay Area. After the evaluations, the products' scores were reviewed to determine qualification for a prestigious ChefsBest award.
ChefsBest award winners for select condiments include:
2016 Best Taste Awards
Huy Fong – Sriracha Ketchup
Nesquik – Powdered Chocolate Flavored Milk Mix
2016 Excellence Awards
French's – Worcestershire Sauce
Heinz – Worcestershire Sauce
Hershey's – Chocolate Syrup
Lea & Perrins – Worcestershire Sauce
Log Cabin – Sugar Free Pancake Syrup
Mario Camacho Foods – Large Pitted Black Olives
Mt. Olive – Sweet Relish (Squeezable Package)
Nesquik – Chocolate Syrup
Swiss Miss – Powdered Hot Cocoa
With over a decade in market and millions of impressions per month, the ChefsBest medallion is a symbol consumers know and trust. Each of the awards is supported by its own set of qualifications to validate the powerful advertising claims brands use in market. Brand managers often turn to ChefsBest to enhance their current marketing efforts and to secure those coveted claims.
The ChefsBest Best Taste Award is bestowed upon only one product in each category. It signifies to both consumers and buyers that only one product has secured the distinction as best tasting. Products evaluated for Best Taste are defined as top-selling by Nielsen or IRI data. Advertising claims demonstrating superiority, like "Best Tasting," "America's Best," or "Highest Quality," can be made by winners.
The ChefsBest Excellence Award is granted to products that surpass quality standards established by ChefsBest Certified Master Tasters. Winners are identified as those products that meet or exceed benchmark standards for their respective product categories. It is a non-comparative award; multiple products may earn an Excellence Award in the same category because they are judged and rated based on their own merits. Winners may use substantiated advertising claims like "Endorsed by Professional Chefs," "Award-Winning Taste," and "Highly Rated."
For more information on ChefsBest's evaluation process, awards, and other winners, visit ChefsBest.com.
About ChefsBest
ChefsBest identifies and honors the best tasting grocery products in order to support the companies that make them and the people who choose to select them. Through its headquarters in San Diego and the Center for Taste in San Francisco, the organization has judged thousands of grocery products and bestowed its Best Taste and Excellence awards on the highest-quality products since 2000. Through ChefsBest, brands can unlock coveted ad claims and consumers can garner insight they need to purchase the best-tasting and highest quality ingredients. ChefsBest awards are a nationally recognized trust mark used by numerous brands, both in and out of the grocery aisle. For more information, visit ChefsBest.com.
##