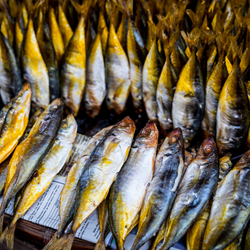 "We are looking forward to the collaboration with the Meloy Fund, which will finance our increased investment and working capital needs for our growing sustainable seafood business in the Philippines." -Christian Schmidradner, CEO of Meliomar
Arlington, VA (PRWEB) December 19, 2016
Today Rare's Sustainable Markets Group announced a US$1 million-dollar investment in Philippines-based seafood company, Meliomar Inc. This marks the first investment by the Meloy Fund for Sustainable Small-Scale Fisheries in Southeast Asia, the first impact fund focused solely on near-shore fishing-related enterprises in the developing tropics.
Based in Manila, Meliomar is a fish aggregator, processor, importer and exporter, founded in 2013. This five-year investment will help Meliomar increase its processing capacity and logistics, as well as strengthen its internal systems, supporting growth in volume as well as the development of additional product lines to complement its current offering. As part of the agreement, Meliomar will partner with Rare's flagship coastal fisheries program, Fish Forever, to source at least ten tons of sustainable seafood annually from local Filipino communities as part of jointly developed fishery improvement projects (FIPs).
Christian Schmidradner, CEO of Meliomar, said, "We are looking forward to the collaboration with the Meloy Fund, which will finance our increased investment and working capital needs for our growing sustainable seafood business in the Philippines. It was key to have a financing partner that understands the complexities and underlying challenges of working with local small-scale fisheries towards improvement and management reform."
In addition to financial returns, the investment aims to deliver environmental and social impacts, projected to include more than $2.5 million in additional annual income to 16,000 local fishers and at least 12,000 hectares of critically important marine ecosystems under improved management by 2021.
Launching in 2017, the Meloy Fund is a first-of-its-kind impact investment fund focused on coastal fisheries in Indonesia and the Philippines. Investors include the Global Environment Facility (GEF) and the Jeremy and Hannelore Grantham Environmental Trust, and has been further supported by partners including Bloomberg Philanthropies and JPMorgan Chase & Co., among others.
Matt Arnold, Global Head of Sustainable Finance for JPMorgan Chase said, "Rare has moved quickly to build a compelling approach for investment in conservation and JPMorgan Chase is proud to support its innovative efforts."
Ramsay Ravenel, Executive Director of the Jeremy and Hannelore Grantham Environmental Trust said, "The Grantham Environmental Trust is excited to support Rare's first investment from the Meloy Fund. This transaction perfectly exemplifies the fund's strategy to make pioneering private investments that benefit local fishing communities while protecting critical ocean habitat."
The Meloy Fund, an initiative of Rare's Sustainable Markets Group, is part of a larger push by Rare to create financial incentives and innovative public-private collaborations in order to scale conservation solutions across its work areas. This includes Rare's participation in the Vibrant Oceans Initiative (VOI), funded by Bloomberg Philanthropies. Among its many critical impacts, the VOI has played a fundamental role in creating the foundation for the Meloy Fund to succeed.
###
ABOUT RARE
Ranked in the top 25 NGOs in the world by NGO ADVISORS, Rare is an innovative conservation organization that implements proven conservation solutions and trains local leaders in communities worldwide. Through its signature social marketing campaigns (called Pride campaigns), Rare inspires people to take pride in the species and habitats that make their community unique, while also introducing practical alternatives to environmentally destructive practices. Employees of local governments or non-profit organizations receive extensive training on fisheries management, campaign planning and social marketing to communities. They are equipped to deliver community-based solutions based on natural and social science, while leveraging policy and market forces to accelerate positive environmental change through programs in clean water, sustainable agriculture, and coastal fisheries. To learn more about Rare, please visit http://www.rare.org.
For media inquiries, please contact:
Julie Langlie, 410.353.4587, julie.langlie(at)bullseyecomm.com