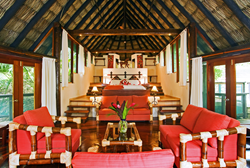 I like to think that Prince Harry enjoyed being here as much as we enjoyed having him
San Ignacio, Belize (PRWEB) December 20, 2016
The Lodge at Chaa Creek has been featured in travel, outdoors and adventure publications for decades, and a recent feature in Vogue marks the Belizean eco-resort's introduction to the world of high fashion - an inclusion the popular Belizean eco-resort's owners say is both welcome and timely as they set to open new Belize luxury villas this month.
Lucy Fleming said she and her husband Mick were "surprised and delighted" to see Chaa Creek highlighted in a December 9, 2016 Vogue article titled "13 Beautiful Resorts Where The British Royalty Spend Their Vacations."
"We've become accustomed to seeing Chaa Creek mentioned in travel, hospitality, outdoors and environmental publications and guide books, but being featured in Vogue was a delightful surprise.
"Being associated with a preeminent fashion publication such as Vogue would be an honour at any time, and it's especially welcome as we're busy preparing for the grand opening of our Ix Chel Luxury Villas," Ms Fleming said.
The Vogue article by Andrea Bartz depicts top resorts around the world where members of England's Royal Family have stayed; destinations in Rome, Berlin, Wales, Austria, Canada, Croatia, the United States, India, and, with The Lodge at Chaa Creek, tiny Belize, noting:
"Always the tastemakers, these contemporary regal Brits tend to seek out and check into some of the world's most elegant hotels, from Texas to the Taj Mahal."
Ms Bartz placed Chaa Creek second on her list, with the introduction that:
"Prince Harry visited this eco resort in western Belize, dining on traditional Maya kac'kick soup, visiting ancient Mayan ruins, and sleeping in a Treetop Suite—an airy accommodation high up in the greenery, with a private Jacuzzi and lots of light. The secluded resort, located on an organic farm and engulfed by jungle, played host to Harry during his Diamond Jubilee tour, which honoured Queen Elizabeth II's 60 years on the throne. Unsurprisingly, the hotel staff deemed Harry friendly, laid-back, and warm."
Ms Fleming said she and her family and staff retained warm memories of the Prince's visit.
"It was a lovely experience that everyone thoroughly enjoyed. Prince Harry had such an unpretentious, friendly way about him the staff was quickly put at ease, and he seemed genuinely happy to be here.
"His first words after checking in were, 'Wow, This place looks so relaxing,' and then he mentioned how much he'd like to try a Mojito, which we were happy to accommodate with one of our signature lemon basil versions. After a poolside dinner, in-room therapeutic massage and a full English breakfast the next morning he climbed the ancient Maya temple at nearby Xunantunich, and I can safely say a good time was had by all," Ms Fleming said.
"I like to think that Prince Harry enjoyed being here as much as we enjoyed having him," she added.
The Lodge Chaa Creek is a quintessential family business. Mick and Lucy opened their small farm on the banks of Belize's Macal River to guests in 1981, just as the little Caribbean country achieved independence from Great Britain. Over three decades later, with daughter Bryony taking the helm as general manager and son Piers acting as liaison the US, the Flemings recently embarked on an ambitious project to introduce high-end luxury accommodations into a pristine rainforest setting.
Adding to a wide selection of accommodations ranging from luxurious suites to artistically appointed thatched-roof cottage style rooms and a more rustic Macal River Camp, all within a private 400-acre nature reserve, the Ix Chel Luxury Rainforest Villas feature panoramic views of the surrounding jungle from rooms fronted with floor to ceiling glass doors and walls leading onto expansive verandas with private Jacuzzis, plunge pools and al fresco showers to create what Ms Fleming described as a "Garden of Eden with a butler" experience.
"The villas come with a personal butler who organises all services from meals to massages, laundry, tours, activities and anything guests desire. The villas sit atop a beautifully landscaped bank with stunning private views, yet they're convenient to the restaurant and lounge, infinity pool, Hilltop Spa and all other amenities. Swimming, canoeing, horseback and mountain bike riding as well as nature walks along miles of trails are all easily available. We wanted to create a truly luxurious experience that offered privacy without being remote," Ms Fleming explained.
Regarded in the travel industry as Belize's "Destination Within a Destination" due to a wide assortment of amenities and onsite activities as well as an extensive menu of tours, expeditions and all-inclusive Belize vacation packages that include "Rainforest to Reef' options with sister resorts that offer combination jungle and Caribbean beach holidays, Ms Fleming said that Chaa Creek prides itself on delivering personalised service to a broad spectrum of travellers.
"We make sure that everyone; from families, couples, groups and individuals with various interests and budgets receive the same level of service and attention as the celebrities and VIPs we host.
"Another advantage of having grown slowly and organically as a family operation over the years is that we've been able to concentrate on environmental sustainability and responsible travel while expanding our range of offerings with an emphasis on quality and service," she said.
On December 1 2016 National Geographic announced that The Lodge at Chaa Creek was selected as a finalist for the annual World Legacy Awards for the resort's "…environmentally friendly operations, protection of natural and cultural heritage, and support for the wellbeing of local communities."
"We set out to prove that being Green and scrupulously adhering to the tenets of responsible travel doesn't mean that you need to compromise quality or excellent service.
"I think being recognised by National Geographic and Vogue in the same month shows that you can do both, and that's something our family and entire 160 member staff take a great deal of pride in, and our guests seem to appreciate," Ms Fleming said.
Do the Flemings expect to welcome Prince Harry or other members of the Royal Family next year?
"We're careful to safeguard the privacy of all our guests, so those are things we don't usually comment on or promote.
"But Prince Harry and the Royal Family know our welcome mat is always out, so you never know," Ms Fleming said.
"And Mojitos fit for a prince are always available," she added.
The Lodge at Chaa Creek is a multi award winning eco resort set within a 400-acre private nature reserve along the banks of the Macal River in Belize.