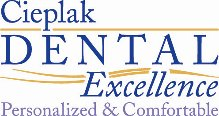 La Plata, MD (PRWEB) December 15, 2016
Dr. Patrick Cieplak, a respected dentist in La Plata, MD, and his team at Cieplak Dental Excellence, are proud to welcome Krystal Aud as a new dental hygienist. Aud has over seven years of experience as a registered dental hygienist and more than 13 years of experience in the dental field. Thanks to her expertise, Cieplak Dental Excellence can now offer more patient openings and greater availability for their family dentistry services.
Krystal Aud graduated from the University of Maryland School of Dentistry in Baltimore, MD, and is honored to work with a distinguished dentist in La Plata, MD, Dr. Cieplak. In addition to working with adults, Krystal Aud also has experience working with children and makes a great addition to Cieplak Dental Excellence, which offers experienced family dental care to all ages.
Dr. Cieplak provides compassionate dental care and cutting-edge treatments designed to treat a variety of dental conditions with minimal discomfort. A few of the services available at Cieplak Dental Excellence include tooth extractions, gum disease treatment and general dental care including fillings and tooth extractions.
Dr. Cieplak, Aud and the entire Cieplak Dental Excellence team value continuing education to provide the most up-to-date care for their patients. Dr. Cieplak has completed the entire Pankey Institute program for TMJ (temporomandibular joint) treatment and received advanced cosmetic dentistry training with the Las Vegas Institute, or LVI. Sedation options are also available for patients who are anxious about receiving dental care; Dr. Cieplak has trained at Johns Hopkins and Mercy Hospitals for sedation dentistry.
Dr. Cieplak encourages patients who are looking for a friendly and experienced dentist in La Plata, MD, to visit his practice for their family dentistry needs and to meet Krystal Aud, the newest team member. Appointments can be arranged by calling 301-609-9999.
About the Doctor
Dr. Patrick Cieplak is a general dentist offering personalized dental care to patients in La Plata, MD. Dr. Cieplak is dedicated to learning the latest dental techniques and has completed hundreds of hours of continuing education courses. Dr. Cieplak is one of only 3,000 dentists to receive the Academy of General Dentistry's Master's Degree and he is a Fellow in the International Congress of Oral Implantology as well as Associate Fellow in the American Academy of Implant Dentistry. Cieplak Dental Excellence strives to offer each patient customized treatment to help them achieve proper oral health. To learn more about Dr. Cieplak, his team or the services they offer, please visit http://www.patcieplakdds.com or call (301) 609-9999 to schedule an appointment.