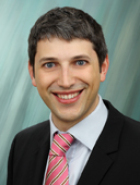 Thomas Pupp's extensive knowledge and experience in the Aviation industry will help to create AOG logistics solutions for Sterling's European clients.
New York, New York (PRWEB) December 16, 2016
As part of an ongoing global expansion plan, Sterling has recruited aviation logistics specialist Thomas Pupp to support clients' mission-critical logistics requirements in Western Europe, and will be based in Sterling's new Regional Support Center in Frankfurt, Germany.
Mr. Pupp has over 14 years of aviation logistics experience, and will provide customized solutions for aircraft manufacturers, daily flight operators and maintenance companies, in order to optimize their supply chain and minimize aircraft downtime.
Sterling's local Customer Service team will provide 24/7 pick up and delivery of critical AOG parts to anywhere in the world, no matter how remote, with an array of shipping options including next flight out priority freight, dedicated drives, specialized trucking, on board courier and aircraft chartering. They will consult with clients on proper Documentation, Regulatory Compliance, VAT and prepayment of duties and taxes.
Mr. Pupp has worked in various management positions in aerospace logistics throughout his career. He recently held the position of Aerospace Business Development Director at a major global transport and logistics company, and was based in Germany.
He started his career as Product Manager at time: matters, a company of Lufthansa Cargo, and helped to develop emergency courier services, as well as build their service partner network. He was also a Business Development Manager at time: matters for the European Region, developing priority logistics solutions for various vertical market segments.
"We are so pleased to have Thomas Pupp join the Sterling team. His extensive knowledge and experience in the Aviation industry will help to create AOG logistics solutions for our clients in this region of Europe" says Robert Broderick, Sterling's Vice President of Business Development.
About Sterling Global Aviation Logistics
Since 1981, Sterling has been helping aviation clients with their worldwide priority shipping, transporting valuable aircraft parts swiftly and efficiently. Sterling specializes in shipping AOG aircraft parts, heavy weight or oversized freight, and dangerous goods, while keeping down time to a minimum. With a focus on providing global AOG Logistics, Sterling is at the forefront of innovations, offering precision, individualized service and dependability.
Contact: Marie T. Vigliarolo, SVP Marketing-Sterling Aviation
718.995.3616 ext. 2207
marie_vigliarolo(at)qintl(dot)com
http://www.sterlingaog.aero