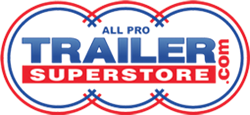 Mechanicsburg, PA (PRWEB) December 16, 2016
All Pro Trailer Superstore; a premier trailer dealer in Central Pennsylvania serving regional, national, and international customers; is happy to announce that the Big Tex Trailers Year End Sales Event is here. The sales promotion started on December 1st and runs until the end of the year. Customers in need of a last minute Christmas gift or who are looking for a trailer from a top manufacturer will find great trailers at even better prices.
In addition to the savings offered only at All Pro Trailer Superstore, Big Tex is offering Visa gift card rebates on select Big Tex models as part of its Haulidays Sales Event. Customers who purchase a new Big Tex trailer that qualifies will be able to redeem their rebate using a mail-in form. Details about the rebate program can be found here, and Visa gift card amounts range from $100-$400 depending on the trailer purchased. Here is a list of the qualifying Big Tex models:

$100 Visa Gift Card Qualifying Models: 30SA, 35SA, 35SA-RS/RSX, 45LA, 50LA, 70PI-X, 70CH, 70DM, 10DM
$200 Visa Gift Card Qualifying Models: 10PI, 14PI, 10ET, 14ET, 10DF, 14DF, 10FT, 14FT, 10TL, 14TL, 10OA, 14OA
$300 Visa Gift Card Qualifying Models: 10LX, 12LX, 14LX, 14GX, 14OD/GN, 21GX, 25DU
$400 Visa Gift Card Qualifying Models: 14GN, 22GN, 25GN, 3XGN, 14PH, 22PH, 22GN-HDTS, 25GN-HDTS
All Pro Trailer Superstore is happy to bring this and many other sales promotions to help our customers afford the trailer they need for work or play. The Big Tex promotion applies to in-stock purchases only, so it's important to come to the showroom to take advantage of this major promotion. Sales personnel are ready to answer any questions, and trades and financing are available as well.
Happy Holidays from the family at All Pro Trailer Superstore!
About All Pro Trailer Superstore:
All Pro Trailer Superstore, located in Mechanicsburg, Pennsylvania, has been selling and servicing new and used trailers since 1985. Family owned and operated, All Pro Trailer Superstore provides customers with high-quality trailers at low prices throughout the Continental US, Hawaii, Alaska, Europe, South America and the Caribbean Islands. With the wide variety of trailers and services available, All Pro can also design custom trailers, provide trailer accessories, offer financing and more.
Please call All Pro Trailer Superstore for more information about trailers and their latest sales at (800) 622-7003.