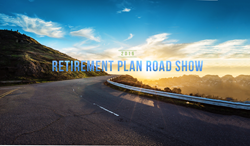 We believe well-informed people make well-informed decisions and well-informed decisions lead to excellent results
(PRWEB) December 21, 2016
The Retirement Plan Road Show closed out the fifth year of touring the nation with informative fiduciary educational summits. The 2016 campaign started in Los Angeles, circled the United States, and ended in Columbus, Ohio. Traveling through the United States in metropolitan cities in Arizona, Florida, California, Virginia, New York, Pennsylvania, and North Carolina among others, the national Retirement Plan Road Show is pleased to announce a monumental and record setting year.
With a mission of helping America Reach their retirement plan goals, the annual training conferences focus on empowering local HR, Finance and Business Professional plan sponsors with best practices and benchmark tools to measure their retirement plan success. In the fifth tour, the RPRS saw over 1,050 Plan Sponsors registered, representing more than 1,600,000 Plan Participants and $120,000,000,000 in total Retirement Plan Assets.
"We believe well-informed people make well-informed decisions and well-informed decisions lead to excellent results," said Jon Freye, Managing Director at Xponential Growth Solutions. "Employers, plan sponsors, and employees deserve excellent results."
To learn more about the 2016 Retirement Plan Road Show, download the 401(k) & 403(b) Plan Sponsor Report. Early registration for 2017 events is now open. Register or request a 2017 RPRS stop in your city by contacting our Tour Director at 619-795-3920, info@xgrowthsolutions.com, or by visiting: http://www.xgrowthsolutions.com/events