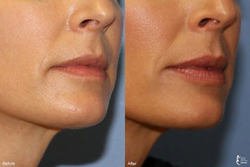 Santa Rosa, CA (PRWEB) December 15, 2016
Plastic Surgery Associates is excited to announce the addition of Juvederm Volbella® to their line-up of exceptional dermal fillers. Practice founders, Francisco Canales, M.D. and Heather Furnas, M.D., are recognized for their commitment to bringing patients cutting-edge, noninvasive treatments. Juvederm Volbella® is unique in that it is designed specifically for plumping the lips and restoring volume under the eyes.
Made by Allergan, the company behind Botox Cosmetic and Juvederm, Volbella® is part of a new generation of Hyaluronic Acid fillers. The filler was recently approved by the Food and Drug Administration as a safe way for restoring volume in delicate areas of the face, including the lips. Created using Juvederm's own VYCROSS™ technology, Volbella has a creamy, smooth texture that blends various weights of HA molecules for easy injections.
Juvederm Volbella® XC is premixed with lidocaine for a comfortable patient experience. Results from the injectable can be seen immediately and will last for 12 months or longer. Volbella® was designed for delicate areas under the eyes, around the mouth, and along the lips. The filler can replenish lost volume in hollow areas below the eyes, create plump lips, smooth Smoker's Lines (fine, vertical lip lines) and create an attractive lip border.
Ideal Volbella® patients will be at least 21 years old. Those with an allergy to lidocaine or gram positive bacteria should not use Volbella®. Women pregnant or breast feeding will be asked to postpone their treatment. Formulated with a low concentration of HA, Volbella® holds little chance for unexpected swelling and few side-effects.
Drs. Canales and Furnas founded Santa Rosa's Plastic Surgery Associates in 1992. Both doctors are board certified, and together have more than 40 years of plastic surgery experience. They meticulously put together a highly-trained staff of aesthetic professionals, ensuring each patient will get the best results possible. Dr. Furnas explains, "Plastic surgery isn't a single-person endeavor." She continues, "it takes a team for (each treatment) to go smoothly and safely."
Dr. Canales was trained at Harvard and Stanford. Dr. Furnas attended UCLA School of Medicine and completed her plastic surgery residency at Stanford University. The surgeons routinely present on their innovative techniques at plastic surgery conferences across the country. In their private time, Drs. Canales and Furnas travel abroad, providing free plastic surgery services to children in need across Peru, Honduras, the Philippines, Western Soma and El Salvador.
For more information on Juvederm Volbella®, contact Plastic Surgery Associates' Santa Rosa office at 707.537.2111. Those patients in the San Francisco-Bay Area now have the option of seeing the same trusted aesthetic professionals at Plastic Surgery Associates' new, Novato clinic. Consultations can be made by calling 415.895.5032. Speak with a patient coordinator to schedule an appointment, or for directions to the closest office. Additional details on the Juvederm family of fillers can be found on their website.