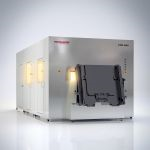 2016 has been a very a good year for us as our latest Maskless Aligner and Laser Lithography family of systems received great reception from global technology firms. Alexander Forozan, VP
Heidelberg, baden-wuerttemberg (PRWEB) December 17, 2016
Heidelberg Instruments, a leader in design, development and production of laser lithography and Maskless Aligner Systems, announced order for an advanced VPG+ 1400 laser lithography system from a leading photomask production group in Japan.
The VPG+ 1400 utilizes the latest innovations in software, electronics and optics, including a newly and custom designed spatial light modulator powering an unmatched exposure speed with excellent image quality specifications required for advanced large area photomaks. It can pattern sub-micron structures (with an address grid down to12 nm) on up to 1.4 by 1.5 meter substrates.
"2016 has been a very a good year for us as our latest Maskless Aligner and Laser Lithography family of systems received great reception from global technology firms. Our customers see clear advantages in our versatile, advanced, and economical product line, including the newly developed VPG+ platform," states Alexander Forozan, Head of Global Sales Business Development
About Heidelberg Instruments, GmbH: With an installation base of over 750 systems in more than 50 countries, Heidelberg Instruments Mikrotechnik GmbH is a world leader in production of high precision laser and maskless lithography systems. Due to their flexibility, these systems are used in research, development and industrial applications for direct writing and photomask production by some of the most prestigious universities and industry leaders in the areas of MEMS, BioMEMS, Nano Technology, ASICS, TFT, Displays, Micro Optics, and many other related applications.